Curtis Macdonald - Community Immunity (2011)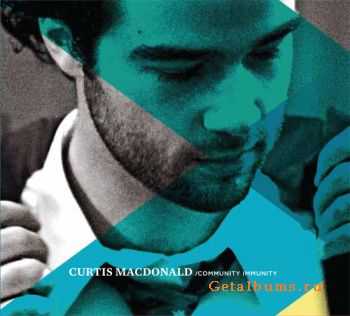 Artist
: Curtis Macdonald
Title Of Album
: Community Immunity
Year Of Release
: 05-04-2011
Genre
: Jazz
Label
: KOCH Records
Quality
: 320/FLAC(cue,tracks,log)
Tracks
: 10
Time
: 41:59 min
Size
: 95/230 MB
Tracklist:
1. Community Immunity 4:52
2. Childhood Sympathy 2:52
3. Figmentum II 5:21
4. Second Guessing 5:16
5. Mosaic I 4:01
6. The Living Well 3:19
7. Somnolence IV 4:00
8. Mosaic II 4:24
9. The Imagineer 3:07
10. My Deal 4:48
"Community Immunity is much more than your average modern jazz album… It is a study in compression and expansion, compositional detail and improvisational freedom."
The New York Jazz Record
"A bracing listen from a musical architect who is as distinctive and precise as he is young… If you're an open-eared listener with a yen for forward-thinking music, you'll find yourself wanting to crack Community Immunity's code."
Ottawa Citizen
"Maybe it's the odd time signatures, maybe the strange timbres or the meandering compositions. Something sets Curtis Macdonald's debut album apart and challenges you to keep coming back."
Rochester City Newspaper
"With Community Immunity, Curtis Macdonald establishes himself as one who stands apart from the rest…"
All About Jazz
"A dynamic effort that succeeds in opening more doors with each listen."
Downbeat Magazine
"Macdonald explores some wholly unique territory…"
JazzTimes Magazine
"Imaginative and daring…"
Pittsburgh Tribune
"A sleekly modern band."
NY Times
Greenleaf Music is proud to release saxophonist/composer Curtis Macdonald's debut album, Community Immunity, April 5, 2011. Greenleaf president and trumpet luminary Dave Douglas notes, "The pieces on this recording are like little puzzles with moving parts that fit together in the strangest ways. The moving parts lock in with uncanny seamlessness." Throughout the recording, strong and catchy melodies are supported by rhythmic motifs that churn each piece in an often cinematic style. Macdonald and his ace crew of players create effortless buoyancy as they bounce off the parameters of each new conundrum.
Macdonald grew up near one of the most desirable artist communities in North America, the Banff Centre for the Arts—a carefully balanced, fertile environment tailored exclusively for community development within the arts. In 2007, he graduated cum laude from the New School University in NYC where he immediately became faculty. Through his research of sound, acoustics, and digital audio processes, Curtis has begun to exploit natural aural phenomena within his compositions, such as binaural beating in the form of a modified rhythmic vibrato heard in his piece "Childhood Sympathy." A quick look at his website will reveal his probing creativity on the cutting edge of computer music technology.
Based in Brooklyn, Macdonald is part of the next generation of great saxophonists. Community Immunity is the first of what will surely be many great Curtis Macdonald projects in the years to come.
Personnel: Curtis Macdonald, Alto Sax; Chris Tordini, Bass; Greg Richie, Drums; Jeremy Viner, Tenor Sax/Clarinet; David Virelles, Piano; Michal Vanoucek, Piano; Travis Reuter, Guitars; Becca Stevens, Voice; Andrea Tyniec, Violin
Информация
Посетители, находящиеся в группе Гости, не могут оставлять комментарии к данной публикации.