Benny Goodman - Benny Goodman & Paris Listen to the Magic (1967)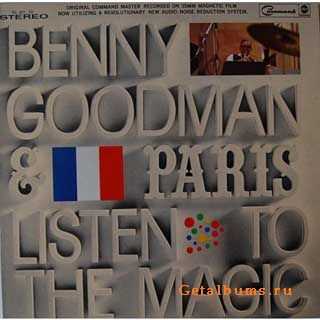 Artist
: Benny Goodman
Title Of Album
: Benny Goodman & Paris Listen to the Magic
Year Of Release
: 1967
Label
: Command
Genre
: Jazz
Quality
: 320kbs
Total Time
: 00:42:45
Total Size
: 98m
Most reviews of post-war Goodman records are based on the thesis that "things ain't what they used to be". Obviously, at this point in time, Goodman is not the dynamic force or leading figure he was three decades ago so let us just accept Benny's records for what they are. Tese 12 titles are strung together (and how I loathe the now-obligatory 'programme' demanded by LP compilers!) by tenuous links with France, and Benny sounds as if he enjoyed the session. The rhythm section is workmanlike and comprises Goodman's pianist from the 1940 band, Bernie Leighton, bass player George Duvivier, guitarist Attila Zoller (who gets too little solo space for he is a fine musician) arid drummer Joe Marshall, late of Johnny Hodges's little band. On most of the tracks the front line comprises Goodman flanked by Joe Newman and Urbie Green. The recorded sound is quite brilliant with a sense of presence which seems to be part and parcel of the Command label's selling technique. There are a few fluffs here and there during Goodman's own solos but they are usually brought about by Benny's uninhibited approach to the faster tempos. Marshall occasionally lifts the entire group up by its collective boot-straps and the music takes on a purposeful resolution which is exhilarating. Strangely enough the sextet swings hardest on the more unlikely tunes including How Ya Gonna Keep 'Em Down On The Farm and Mimi. The weakest tracks are those on which Benny plays the melody slow and fairly straight but as these tracks ate in the minority the LP may be safely recommended to Goodman collectors and lovers of swing-style small groups. A.M.
Tracks:
01 How 'Ya Gonna Keep 'Em Down on the Farm 4:01
02 Autumn Leaves 3:03
03 I Love Paris 3:26
04 April in Paris 2:26
05 A Man and a Woman 3:33
06 C'est Magnifique 3:03
07 Petite Fleur 2:56
08 I Wish You Love 2:33
09 Mimi 3:50
10 C'Est Si Bon 3:03
11 Under Paris Skies 4:08
12 I Will Wait for You 5:49
Personnel:
cl- Benny Goodman;
t- Joe Newman;
tb- Urbie Green;
g- Attila Zoller;
p- Bernie Leighton;
b- George Duvivier;
d- Joe Marshall
Download:
filesonic.com
Информация
Посетители, находящиеся в группе Гости, не могут оставлять комментарии к данной публикации.