Elmo Hope - Trio and Quintet (2005)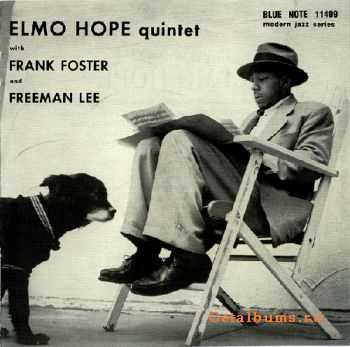 Artist
: Elmo Hope
Title Of Album
: Trio and Quintet
Year Of Release
: 2005
Label
: Blue Note
Genre
: Jazz
Format
: MP3
Quality
: 320 kbps I 44.1 Khz I Joint Stereo
Total Time
: 01:15:42
Total Size
: 204 mb
Of the collections of Elmo Hope's '50s recordings, Trio and Quintet is the one to get. It includes his prime Blue Note sessions and features a stellar cast of hard bop musicians including Art Blakey, Frank Foster, Philly Joe Jones, and Harold Land. The majority of the tunes are Hope originals which, in their angular introspection, bear the influence of both Bud Powell and Thelonious Monk. Things begin with ten mostly hard bop swingers from a trio date in 1953. Prominently featured is Hope's Powell like, single line attack. Solos stay brisk and straightforward on uptempo numbers like "Hot Sauce," but turn a bit mercurial on slower pieces like "Happy Hour." Standout tracks include Hope's "Mo Is On" with its "off to the races" opening statement and "Carvin' the Rock," which falls somewhere between Powell's "Parisian Thoroughfare" and "So Sorry Please." Percy Heath and Philly Joe Jones provide sympathetic support throughout. The Quintet tracks start with an East Coast session featuring Foster and Blakey. The opening number is the convoluted, yet hard swinging original "Crazy"; it causes some problems for trumpeter Freeman Lee, but finds Foster in command with a vigorous solo statement. The remainder of the session impresses with a series of rhythmically rich Hope compositions which, like the majority of Monk's tunes, stay memorable in spite of their complexity. Three more Hope tunes from a West Coast date round out the quintet tracks and close the CD. Land contributes strong tenor work while bassist Leroy Vinnegar and drummer Frank Butler do a fine job keeping things anchored. This Blue Note release is great not only for its cross-section of Hope compositions, but also for the many fertile ideas they've inspired in top-drawer soloists.
Tracks:
01. It's a Lovely Day Today (2:48)
02. Mo is On (2:51)
03. Sweet and Lovely (2:59)
04. Happy Hour (2:52)
05. Hot Sauce (3:53)
06. Stars Over Marrakech (3:06)
07. Freffie (3:06)
08. Carvin' the Rock (2:56)
09. I Remember You (2:46)
10. Mo is On (alternate) (2:52)
11. Crazy (4:17)
12. Abdullah (3:48)
13. Chips (3:36)
14. Later for You (4:02)
15. Low Tide (4:12)
16. Maybe So (4:25)
17. Crazy (alternate) (4:24)
18. So Nice (6:09)
19. St. Elmo's Fire (5:56)
20. Vaun Ex (4:45)
Personnel:
Elmo Hope - piano
Percy Heath, Leroy Vinnegar - bass
Freeman Lee, Stu Williamson - trumpets
Frank Foster, Harold Land - tenor saxophone
Art Blakey, Frank Butler, Philly Joe Jones - drums
Download:
filesonic.com
unibytes.com
Информация
Посетители, находящиеся в группе Гости, не могут оставлять комментарии к данной публикации.