Ahmad Jamal Trio - Complete Recordings feat. Ray Crawford & Israel Crosby (1951-56) (2006)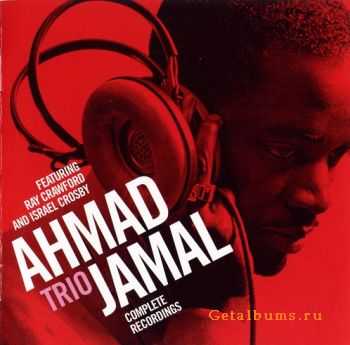 Artist
: Ahmad Jamal Trio
Title Of Album
: Complete Recordings feat. Ray Crawford & Israel Crosby (1951-56)
Year Of Release
: 2006
Label
: Definitive Rec.
Genre
: Jazz / Piano
Format
: MP3
Quality
: 320 kbps I 44.1 Khz I Joint Stereo
Total Time
: 02:35:48
Total Size
: 370 mb
This outstanding 2 CD released contains Ahmad Jamal's complete trio recording with guitarist Ray Crawford and bassist Israel Crosby collected here for the first time ever on one edition. The trio recorded three albums together in 1955 for the Argo (Chamber Music Of The New Jazz) and Epic (Ahmad Jamal trio, Ahmad Jamal) Records Label. This release boasts all of these albums in their entirety including the complete May 5, 1962 Piano Scene session (with Eddie Calhoun replacing Israel Crosby on bass ) that was originally released as part of Epic's 1955 Ahmad Jamal album, featured here as bonus tracks. And speaking of bonus tracks, this released also contains the complete 1956 Argo LP Count 'Em 88 featuring Ahmad Jamal leading a trio with Israel Crosby and drummer Walter Perkins.
Tracks:
CD1
01. New Rumba
02. A Foggy Day
03. All Of You
04. It Ain'T Necessarily So
05. Medley
06. Get A Kick Out Of You
07. Jeff
08. Darn That Dream
09. Spring Is Here
10. Black Beauty
11. Love For Sale
12. Something To Remember You By
13. Poinciana
14. Don'T Blame Me
15. Autumn Leaves
16. They Can'T Take That Away From Me
17. Old Devil Moon
18. It'S Easy To Remember
19. Squeeze Me
20. Pavanne
CD2
01. Crazy He Calls Me
02. Perfidia
03. Rica Pulpa
04. The Donkey Serenade
05. The Surrey With The Fringe on Top
06. Slaughter On 10th Avenue
07. Will You Still Be Mine
08. Ahmad's blues
09. A Gal In Calico
10. Aki And Ukthay
11. Billy Boy
12. Volga Boatman
13. On Green Dolphin Street
14. How About You?
15. I Just Can't See For Lookin'
16. Spring Will Be A Little Late This Year
17. Beat Out Me
18. Maryam
19. Easy To Remember
20. Jim Loves Sue
21. I Wish I Knew
Personnel:
CD1: Ahmad Jamal (p), Ray Crawford (g), Israel Crosby (b).
CD2: Ahmad Jamal (p), Ray Crawford (g #1-11), Israel Crosby (b #1-5,12-21), Eddie Calhoun (b #6-11), Walter Perkins (d #12-21)
Download:
filesonic.com
Информация
Посетители, находящиеся в группе Гости, не могут оставлять комментарии к данной публикации.