Don Byas - Complete American Small Group Recordings (2001)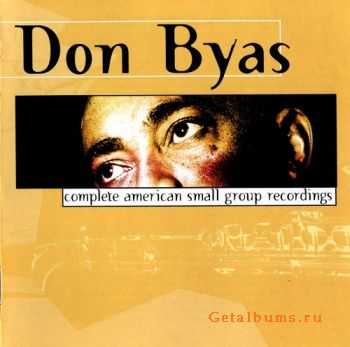 Artist
: Don Byas
Title Of Album
: Complete American Small Group Recordings
Year Of Release
: 2001
Label
: Definitive Rec.
Genre
: Jazz, Mainstream, Swing
Format
: FLAC (Tracks)
Quality
: Lossless
Total Time
: 04:52:15
Total Size
: 934 mb (Full Scans) (3% rec.)
This four disc set, Don Byas: Complete American Small Group Recordings, documents Byas' recordings as a leader prior to his emigration, with one disc documenting his work as a sideman in a variety of bands. Although he was later to record extensively in Europe, Byas should be established as a major tenor saxophonist based on this four disc set alone.
The opening disc presents a Don Byas composition, an up-tempo, boppish "Riffin' and Jivin'" that brings together Count Basie's influence and a peek at the modernists to be in the alternating swing and almost boppish solo and riff passages. The easy communication between the two styles is evident with the extremes best illustrated by the bowed swing bass of Slam Stewart and the aggressive, trumpet solo of Charlie Shavers. The easy back and forth is suggestive of the evolutionary rather than revolutionary nature of be-bop. Compositions such as "Riffin' and Jivin'" and the Ellington/Hodges' composition "The Jeep Is Jumpin'" is evidence enough, if anyone doubted, that be-bop grew from the soil of swing.
This fine band, that Byas fronted as the Don Byas Orchestra, included Clyde Hart on piano (and celeste), Charlie Shavers on trumpet, Slam Stewart on bass, and Jack "The Bear" Parker on drums. These two 1944 sessions helps to set the tone for the four disc set: excellent musicians with a bluesy feel and an extraordinary range of resources. Count Basie's influence and Kansas City loom large in the background; the rising development of bebop appears in flashes, compositional touches, and in the solos of individual musicians. Charlie Shavers is superb throughout the nine tracks with this band presenting a good foil to the bluesy Byas with his staccato, bright, trumpet sound. This is for the most part a pre-modernist Clyde Hart, demonstrating an obvious Count Basie piano influence.
The second and third tracks present a sensual Byas in a ballad mode with his performance on his own composition "Worried N' Blue" being especially noteworthy for his long beautifully developed tenor solo. Shavers slides into an Eldridge like solo and Clyde Hart is effective on celeste. The fourth track, "Don's Idea" shifts the band into an up-tempo swing number with solos all around. Slam Stewart's bowed bass solo roots the music in the swing world. The opening to the fifth track features Clyde Hart with a pointillist piano solo above Parker's strong bass line. This is an excellent rhythm section with power and a bounce to the whole unit. In general, Hart plays a supportive role throughout these recordings with the main solo work going to Byas, and Shavers. The bluesy feel and the comfortable rapport of the musicians typify the Byas led bands throughout this four disc set...
Mike Neely, All about Jazz, January 13, 2003
Tracks:
Cd1
1 Riffin' and Jivin' (Byas) 2:57
2 Free and Easy (Byas) 2:51
3 Worried 'N Blue (Byas) 3:15
4 Don's Idea (Byas) 2:54
5 Savoy Jam Party, Pt. 2 (Byas) 3:13
6 Savoy Jam Party, Pt. 1 (Byas) 2:59
7 1944 Stomp (Byas) 3:01
8 What Do You Want With My Heart (Byas) 3:00
9 Bass C Jam (Byas) 2:54
10 Pennies from Heaven (Burke, Johnston) 3:12
11 Should I ? Brown, Freed) 2:37
12 You Call It Madness (But I Call It Love) (Columbo, Conrad, Dubois) 2:54
13 Jamboree Jump (Byas) 2:52
14 Little White Lies (Donaldson) 2:49
15 Deep Purple (DeRose, Parish) 3:05
16 Them There Eyes (Pinkard, Tauber, Tracey) 3:03
17 Double Talk (Byas) 3:30
18 Fruit Salad (Byas) 3:01
19 Don Juan (Unknown) 2:51
20 Spots (Byas, Shad) 2:57
21 Please Believe Me (Broonzy) 2:49
22 Why Did You Do That to Me (Broonzy) 3:04
23 You Got to Play Your Hand (Broonzy) 3:18
24 Just a Dream (Broonzy) 3:05
Cd2
1 Out of Nowhere (You Came Along) (Green, Heyman) 3:16
2 Three O'Clock in the Morning (Robledo, Terriss) 3:02
3 One O'Clock Jump (Basie) 2:47
4 Harvard Blues (Basie, Frazier, Smith) 3:09
5 Slam-In' Around (Byas) 2:46
6 Laura (Mercer, Raksin) 2:49
7 Stardust (Carmichael, Parish) 3:04
8 32 Slam, Don't Shake Like That (Byas, Stewart) 3:04
9 Dark Eyes (Traditional) 3:03
10 Embraceable You (Gershwin, Gershwin) 3:04
11 The Sheik of Araby (Smith, Snyder, Wheeler) 3:04
12 Super Session (Byas) 3:00
13 Melody in Swing (Catlett, Grimes) 3:17
14 Once in a While (Edwards, Green) 3:19
15 Avalon (DeSylva, Jolson, Rose) 3:06
16 Blue and Sentimental (Basie, David, Livingston) 3:16
17 My Melancholy Baby (Burnett, Norton) 3:04
18 The Gypsy (Reid) 2:26
19 Nancy (Silver, Van Heusen) 2:48
20 Poor Butterfly (Golden, Hubbell) 3:02
21 Evil Gal Blues (Feather) 3:04
22 Salty Papa Blues (Feather) 2:51
23 Albinia's Blues (Jones) 2:44
24 Don't You Wear No Black (What's the Matter With Me) (Haynes, Ramson, Smith) 2:47
Cd3
1 Humoresque (Dvorak) 2:51
2 Wrap Your Troubles in Dreams (Barris, Koehler, Moll) 3:01
3 Smoke Gets in Your Eyes (Harbach, Kern) 2:50
4 Slamboree (Byas, Garner, Stewart, West) 2:59
5 Annie Laurie (Douglas, Scott) 3:00
6 Candy (David, Kramer, Whitney ) 3:19
7 How High the Moon (Hamilton, Lewis) 2:56
8 Donby (Byas) 3:12 9 Byas a Drink (Byas) 2:46
10 I Don't Know Why (I Just Do) (Ahlert, Turk) 3:01
11 London Donnie (Danny Boy) (Traditional) 2:52
12 Old Folks (Lee, Robison) 3:04
13 Cherokee (Noble) 3:02
14 September in the Rain (Dubin, Warren) 2:59
15 Living My Life 2:44
16 To Each His Own (Evans, Livingston) 2:57
17 They Say It's Wonderful (Berlin) 2:24
18 Cynthia's in Love (Gish, Owens, White) 2:47
19 September Song (Anderson, Weill) 2:54
20 St. Louis Blues (Handy) 3:00
21 I've Found a New Baby (Palmer, Williams) 2:40
22 Marie (Berlin) 2:56
23 You Go to My Head (Coots, Gillespie) 2:54
24 Don't You Know I Care (Or Don't You Care to Know) David, Ellington) 2:54
25 Gloomy Sunday Javor, Lewis, Seress) 3:06
26 More Than a Mood Simon) 2:53
Cd4
1 How High the Moon (Hamilton, Lewis) 3:55
2 Sarcastic Lady (Hodges) 4:43
3 Them There Eyes (Pinkard, Tauber, Tracey) 3:49
4 Penthouse Serenade (When We're Alone) (Burton, Jason) 4:42
5 Sweet and Lovely (Anheim, Tobias) 3:02
6 White Rose Kick (Byas) 2:33
7 My Deep Blue Dream (Rivera, Troob) 3:04
8 Byas'd Opinion (Byas) 2:42
9 Hank's Pranks (Rivera) 2:49
10 Juke Box Judy (D'Amico) 2:58
11 Shy Little With from Greenwich (Newton) 3:00
12 Gone at Dawn (Simon) 2:53
13 Morning Madness (Haynes) 3:58
14 One Sad Thursday (Haynes) 3:50
15 Across the Road (Haynes) 3:47
16 Cedar Manor (Haynes) 3:45
17 The Jeep Is Jumpin' (Ellington, Hodges) 4:53
18 I'd Do Anything for You (Hill, Hopkins, Williams) 2:44
19 Sophisticated Lady (Ellington, Mills, Parish) 3:08
20 Armand the Groove (Guarnieri) 3:02
21 Dot's My Baby (Guarnieri) 2:54
Personnel:
Feat. Don Byas, Charlie Shavers, Clyde Hart, Buck Clayton, Johnny Guarnieri, Dizzy Gillespie, Eddie Safranski, Hal Singer, Erroll Garner, Tony Gottuso, Shelly Manne, Specs Powell, Cozy Cole, Leonard gaskin, Denzil Best, Doc West, Big Bill Broonzy, etc.
Rec between July 1944 & 1945
See the complete artwork, for all details ( sessions, dates, personnel, etc)
Download:
filesonic.com-1
filesonic.com-2
unibytes.com-1
unibytes.com-2
Информация
Посетители, находящиеся в группе Гости, не могут оставлять комментарии к данной публикации.