Denis Colin - Subject to Live (2011)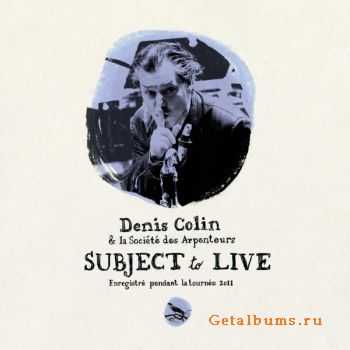 Artist
: Denis Colin
Title Of Album
: Subject to Live
Year Of Release
: 24-10-2011
Label
: Le Chant du Monde
Genre
: Jazz
Format
: mp3/FLAC(log,cue,tracks,artwork)
Quality
: 320/Lossless
Total Time
: 67:40 min
Total Size
: 153/424 MB
Tracklist:
1. Jungoso 8:03
2. Danse de chevet 7:27
3. Par cheminement 5:27
4. Turkish women at the bath 4:39
5. Waiting to the flight to Venus 3:50
6. Ouverture définitive 8:32
7. Chicago Blues for Malaki 7:37
8. Hommes sans titres 4:57
9. Sonné, complètement sonné 7:56
10. Sujet à changement 9:12
With his new Société des Arpenteurs (Surveyors' Club), Denis Colin seems to be at ease just as much in the groovy titles as on more sombre, often haunting pieces. The group has just been on tour where they played with guest artists Jacques Schwarz-Bart and Philippe Sellam, amongst others. Denis Colin has also brought other serious artists into this new group, including Benjamin Moussay on Fender Rhodes, Julien Ormé, a terrific brass section… The Société taps into the groove of "great black music" to offer compositions that blow across the French jazz scene like a diabolically stirring wind. A unifying project and a superb album that retraces the best moments recorded live during the tour.
Denis Colin, bass clarinet
Philippe Sellem, alto and soprano saxophones
Fabrice Theuillon, baritone & soprano saxophones
Sylvaine Hélary, flute & piccolo
Antoine berjeaut, trumpet & flugelhorn
Benjamin Moussay, keyboards
Julien ornate, guitar
Stéphane Kerecki, bass
Thomas Grimmonprez, battery
Информация
Посетители, находящиеся в группе Гости, не могут оставлять комментарии к данной публикации.