Rez Abbasi's Invocation - Suno Suno (2011)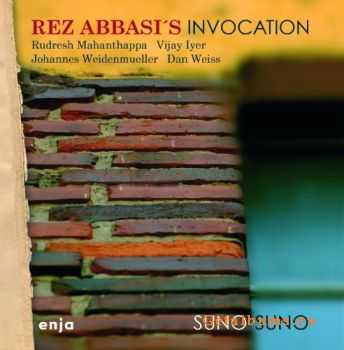 Artist
: Rez Abbasi's Invocation
Title Of Album
: Suno Suno
Year Of Release
: 14-11-2011
Label
: Enja
Genre
: Jazz
Format
: mp3/FLAC(log,cue,tracks)
Quality
: 320/Lossless
Total Time
: 64:15 min
Total Size
: 135/395 MB
Tracklist:
1. Thanks For Giving 13:10
2. Onus On Us 11:15
3. Monuments (Intro) 1:44
4. Monuments 6:59
5. Nusrat 9:43
6. Overseas 9:57
7. Part Of One 11:26
Rez Abbasi´s new album, and second with his group Invocation, is an inspiring step forward in the evolution of an artist who, while firmly rooted in jazz and classical music, is continually embracing influences from India and Pakistan. For a decade, Abbasi has been blazing a new trail along with cohorts, Vijay Iyer and Rudresh Mahanthappa, leading figures in Indian - American cutting edge jazz. Rez´ father was born in Bombay and his mother in Lahore, Pakistan. Also born in Pakistan, Rez migrated to the US at age four. Since an early age he has emerged himself in both western and eastern music, studying and performing with a variety of Indian classical and jazz musicians. His compositions and playing reflect his individuality and create an ideal hybrid of modern jazz and world inflections. In 2008 Abbasi formed the group Invocation, in order to further develop his vision. With band mates Rudresh Mahanthappa, Vijay Iyer, Dan Weiss and Johannes Weidenmueller, his music blossomed into a unique sound unparalleled in today´s jazz. Their debut release, Things To Come (2009), was included in Downbeat magazine´s `best albums of the decade´ and also received the prestigious Chamber Music America grant. For Invocation´s second release, Suno, Suno 2011 the compositions focus on a musical form from Pakistan called Qawwali. He states Qawwali is music of praise, much like it´s Western counterpart, Gospel. Like the Blues, it´s simple and yet complex in subtlety. As a listener and composer, I was drawn towards the feeling that imbues Qawwali, it´s driving grooves and euphoric call and response. Just as jazz musicians have done in the past with Gospel and Blues, I wanted to bring that feeling home. This is the first album I´ve made that contains the totality of my Identity."" Suno Suno (Listen, Listen in Urdu) captures the telepathy, intuition and virtuosity of an uncompromising group of musicians who continue to push the boundaries of modern music Press quotes: ""Abbasi´s compositions are highly sophisticated and complex, containing myriad polyrhythmic crosscurrents and dynamic shifts. His guitar playing is magnificent and his superb phrasing and ornamentation elevate him into the empyrean realms of fusion mastery."" - Guitar Player Magazine ""Abbasi provides plenty of musical intrigue to amaze even the most seasoned guitar fan."" - 20th Century Guitar
Информация
Посетители, находящиеся в группе Гости, не могут оставлять комментарии к данной публикации.