Marius Neset - Golden Xplosion! (2011)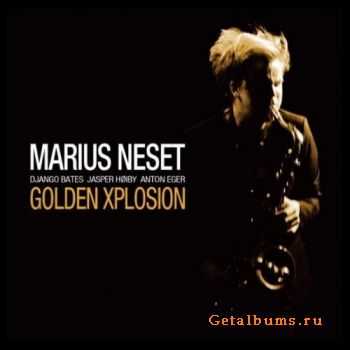 Artist
: Marius Neset
Title Of Album
: Golden Xplosion!
Year Of Release
: 17-04-2011
Label
: Edition Records / EDN1027 / CD
Genre
: Jazz
Format
: mp3/FLAC(log,cue,tracks)
Quality
: 320/Lossless
Total Time
: 47:31 min
Total Size
: 107/268 MB
Tracklist:
1. Introducing: Golden Xplosion
2. Golden Xplosion
3. City On Fire
4. Sane
5. Old Poison (XL)
6. Shame Us
7. Saxophone Intermezzo
8. The Real YSJ
9. Saxophone Intermezzo II
10. Angel Of The North
11. Epilogue
Review
There are plenty of credible heirs to the sax legacy of the late Michael Brecker, but most mimic Brecker's hurtling virtuosity without adding much colour of their own. Marius Neset, the 25-year-old Norwegian saxophonist who surfaced in the UK last year with Django Bates (his teacher and mentor at Copenhagen's Rhythmic Music Conservatory), not only combines Brecker's power and Jan Garbarek's tonal delicacy, but has a vision that makes all 11 originals on this sensational album feel indispensable, and indispensably connected to each other. Bonuses include an inspired Bates on piano and synths, and the formidable Phronesis rhythm section of bassist Jasper Høiby and drummer Anton Eger. The title track begins as a contrapuntal tenor-sax soliloquy that becomes a funky clamour when the band arrives; the breakneck-bop theme of City on Fire demonstrates the group's breathtaking tightness; the multiphonic Saxophone Intermezzo is a majestic hymn; and the lyrical, cruising Angel of the North is like a sax-led Pat Metheny band. On this evidence, Neset is on his way to being one of the biggest new draws on the circuit. FIVE STARS. --The Guardian UK
Product Description
Marius Neset? This is a name you are going to hear a whole lot more. This astonishingly gifted 25 year old saxophonist/composer is releasing his second album on Edition Records and it will simply blow you away. Golden Xplosion, also the title of Marius' band, features one of the hottest quartets anywhere. Pianist Django Bates needs no introduction - the names Human Chain, Loose Tubes and Storm Chaser, his latest project, will suffice. His playing here lends the music an orchestral quality and the textures he adds even on acoustic piano are just gorgeous. Bassist Jasper Hoiby's own Edition CD Phronesis Live was one of the jazz hits of 2010. Swedish drummer Anton Eger is another astonishing young musician with great time and explosive power yet capable of great subtlety too.
MARIUS NESET saxophon
DJANGO BATES piano, keyboards
JASPER HØIBY double bass
ANTON EGER drums
Информация
Посетители, находящиеся в группе Гости, не могут оставлять комментарии к данной публикации.