Duke Ellington & John Coltrane - Duke Ellington & John Coltrane (1963)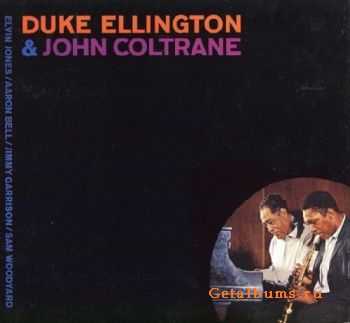 Artist
: Duke Ellington & John Coltrane
Title Of Album
: Duke Ellington & John Coltrane
Year Of Release
:
Label
: Impulse!
Genre
: Jazz
Format
: FLAC (Tracks)
Quality
: Lossless
Total Time
: 00:34:54
Total Size
: 262 mb
For this classic encounter, Duke Ellington "sat in" with the John Coltrane Quartet for a set dominated by Ellington's songs; some performances have his usual sidemen (bassist Aaron Bell and drummer Sam Woodyard) replacing Jimmy Garrison and Elvin Jones in the group. Although it would have been preferable to hear Coltrane play in the Duke Ellington orchestra instead of the other way around, the results are quite rewarding. Their version of "In a Sentimental Mood" is a high point, and such numbers as "Take the Coltrane," "Big Nick," and "My Little Brown Book" are quite memorable. Ellington always recognized talent, and Coltrane seemed quite happy to be recording with a fellow genius.
Scott Yanow
Tracks:
1 In a Sentimental Mood (Ellington, Kurtz, Mills) 4:12
2 Take the Coltrane (Ellington) 4:40
3 Big Nick (Coltrane) 4:25
4 Stevie (Ellington) 4:20
5 My Little Brown Book (Strayhorn) 5:20
6 Angelica (Ellington) 5:56
7 The Feeling of Jazz (Ellington, Simon, Troup) 5:30
Personnel:
John Coltrane - ts & ss
Duke Ellington - p
Jimmy Garrison - b [#2, 3 & 6]
Aaron Bell - b [#1, 4, 5 & 7]
Elvin Jones - dr [#1, 2, 3 & 6]
Sam Woodyard - dr [#4, 5 & 7]
Recorded at the Van Gelder Studio, Englewood Cliffs, New Jersey on September 26, 1962.
Download:
filesonic.com
unibytes.com
Информация
Посетители, находящиеся в группе Гости, не могут оставлять комментарии к данной публикации.