Aaron Goldberg and Guillermo Klein - Bienestan (2011)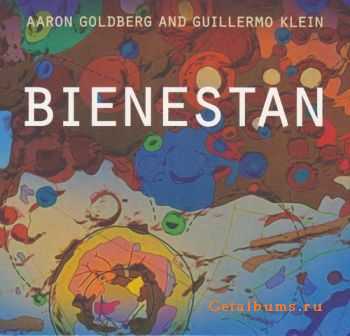 Artist
: Aaron Goldberg and Guillermo Klein
Title Of Album
: Bienestan
Year Of Release
: 14.11.2011
Label
: Sunnyside Communications Inc. / SSC 1245 / CD
Genre
: Jazz
Format
: mp3/FLAC(log,cue,tracks,artwork)
Quality
: 320/Lossless
Total Time
: 57:16 min
Total Size
: 130/336 MB
Tracklist:
1.All The Things You Are 2:14
2.Implacable 3:04
3.Moose The Mooche 4:02
4.Burrito 3:34
5.Human Feel 4:55
6.Anita 3:47
7.Blues For Alice 6:58
8.Manhà de Carnaval 5:14
9.Airport Fugue 5:16
10.Manhà de Carnaval (Orfeo Negro) 5:24
11.Yellow Roses 5:51
12.Impresion de Bienestan 4:36
13.Amtrack / All The Things You Saw 2:25
The intent of collaboration is to blend the strengths of those involved into something unique. Pianist Aaron Goldberg and composer/pianist Guillermo Klein are two musicians at the top of their craft and any collaboration between them proves to be special. The duo's new Sunnyside release, 'Bienestan', documents their recent, groundbreaking alliance.
Known for his unique and intricate compositional style, Klein provides new tunes and arrangements of well-known tunes from the jazz canon for an extremely talented group of jazz musicians led by Goldberg. The other notable musicians featured are saxophonists Miguel Zenon and Chris Cheek, bassist Matt Penman and drummer Eric Harland.
Personnel:
Aaron Goldberg (piano)
Guillermo Klein (Fender Rhodes)
Matt Penman (acoustic bass)
Eric Harland (drums)
Miguel Zenon (alto saxophone)
Chris Cheek (tenor saxophone, soprano saxophone)
Информация
Посетители, находящиеся в группе Гости, не могут оставлять комментарии к данной публикации.