Gуrard Badini - The Swing Machine {Jazz in Paris №86} 1975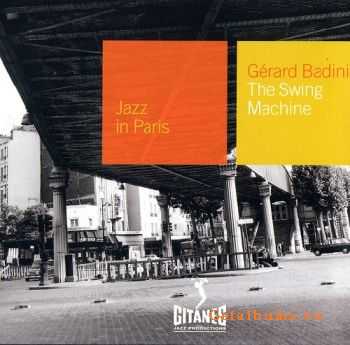 Artist
: Gуrard Badini
Title Of Album
: The Swing Machine
Year Of Release
: 1975
Label
: Universal Music (France)
Genre
: Jazz
Format
: MP3
Quality
: 256 kbps I 44.1 Khz I Joint Stereo
Total Time
: 00:44:54
Total Size
: 85 mb
Gerard Badini is a well-known name in French jazz circles, due to his prolific recording dates, though few of his albums have appeared outside of Europe. The Swing Machine is part of Universal's excellent but now-deleted Jazz in Paris series, documenting a session led by the tenor saxophonist in 1975 with pianist Raymond Fol, bassist Michel Gaudry, and former Duke Ellington drummer Sam Woodyard. Right out of the box, they swing like mad with a superb take of "It Don't Mean a Thing (If It Ain't Got That Swing)," with each musician featured in turn. Badini wrote the wailing blues "Sam Woodyard Is Back in Town," showcasing the gritty side of his playing. Fol frequently shows off his obvious affinity for Duke Ellington by incorporating a few of the bandleader's piano licks into his playing. Woodyard had essentially been on skid row when Badini found him, but he managed to dry out enough to do justice to the music throughout the date. This volume in the Jazz in Paris series is well worth acquiring.
Tracks:
01-I don't mean a thing
02-Let's do it
03-Sam Woodyard is back in town
04-Cute
05-Asphodele
06-Stomp, look and liste
Personnel:
Gerard Badini - Sax (Tenor),
Raymond Fol - Celeste, Piano,
Michel Gaudry - Double Bass,
Sam Woodyard - Drums
Download:
filesonic.com
unibytes.com
Информация
Посетители, находящиеся в группе Гости, не могут оставлять комментарии к данной публикации.