Frank Wess - North, South, East...Wess (1956)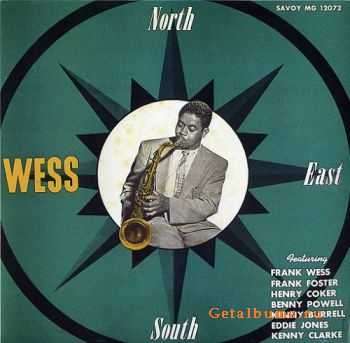 Artist
: Frank Wess
Title Of Album
: North, South, East...Wess
Year Of Release
: 1956
Label
: Savoy
Genre
: Jazz
Format
: FLAC (Tracks)
Quality
: Lossless
Total Time
: 00:37:17
Total Size
: 270 mb
This easygoing swing date is essentially a small group drawn from the Count Basie band of the day. The two tenors, Wess and Frank Foster, and two trombones, Bennie Powell and Henry Coker, all from the Count's band, keep the sound comfortably cruising near the middle register. Kenny Burrell is on the date as the only chordal instrument, contributing flowing chord selections when comping and clean, tasty choruses for his solos. Savoy house drummer Kenny Clarke and Basie bassist Eddie Jones complete rhythm section. On tenor, Wess and Foster are eminently capable, but, on these performances, there isn't a lot to differentiate one from the other. The same can be said for the trombonists. The best moments come when Wess switches to flute, the instrument on which he does have a distinctive and appealing musical personality. The other high points are Burrell's, both as accompanist and in his brief solo spots. Both he and the leader, however, can be heard together to better effect on other Savoy dates, notably Wess' bright and airy chamber jazz date Opus in Swing, and the Frank Foster-led No Count, which features the same group as on North, South, East...Wess.
Jim Todd
Tracks:
1 What'd Ya Say (Cadena) 9:41
2 Dill Pickles (Foster) 6:08
3 Dancing on the Ceiling (Hart, Rodgers) 3:45
4 Hard Sock Dance (Wess) 7:42
5 Salvation (Wess) 3:51
6 Lazy Sal (Coker) 6:10
Personnel:
Frank Wess - ts & fl
Frank Foster - ts
Bennie Powell - tb
Henry Coker - tb
Kenny Burrell - g
Eddie Jones - b
Kenny Clarke - dr
Recorded on March 7, 1956 [# 1, 5 & 6] & March 5, 1956 [# 2-4]
Download:
filesonic.com
unibytes.com
Информация
Посетители, находящиеся в группе Гости, не могут оставлять комментарии к данной публикации.