Jerry Gonzalez & The Fort Apache Band - The River Is Deep (1982)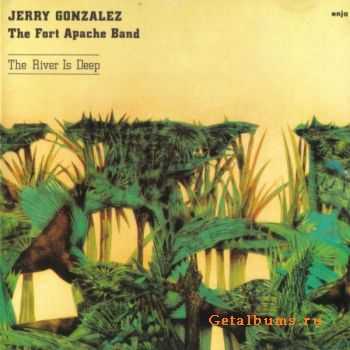 Artist
: Jerry Gonzalez & The Fort Apache Band
Title Of Album
: The River Is Deep
Year Of Release
: 1982
Label
: Enja
Genre
: Afro-Cuban Jazz
Quality
: APE (image+.cue+log) | Mp3
Bitrate
: Lossless | CBR 320 kbps
Total Time
: 42:25
Total Size
: 236 MB | 109 MB (Covers)
AMG:
"Jerry Gonzalez, equally proficient at trumpet and congas, leads his Fort Apache Band through a live set concentrating on Latinized versions of bop standards and pieces directly from the Afro-Cuban santeria tradition. The bop pieces, Dizzy Gillespie's 'Bebop' and Bud Powell's 'Parisian Thoroughfare,' are given rough and tumble treatments, bobbing along on extensive percussion and tight arrangements. They feature some fine soloing from pianist Jorge Dalto and altoist Wilfredo Velez especially, the latter stretching things a bit beyond the changes. But the real highlights are the songs by vocalist Frankie Rodrigues, including the title track (though it's listed in Spanish as 'Rio Esta Hondo'). The call and response of the singers over the crackling, extraordinarily complex rhythms of the percussionists is very exciting stuff, providing a unique sort of tension and release. The final cut, 'Wawina Era Wo,' makes the African part of Afro-Cuban crystal clear: a wonderful interlocking melody reminiscent of parts of Clifford Thornton's The Gardens of Harlem, with the horns and percussion in an intricate and heady dance. On the whole, The River Is Deep has perhaps a shade less bite than the preceding release, Ya Yo Me Cure on American Clave, but it's an invigorating session nonetheless. Recommended."
Tracklist:
1. Introduction by Jerry Gonzalez 0:27
2. Elegua 2:06
3. Bebop 11:38
4. Rio Esta Hondo 6:32
5. Guiro Apache 1:47
6. Parisian Thoroughfare 13:07
7. Wawina Era Wo 6:48
Jerry Gonzalez — Bells, Conga, Coro, Flugelhorn, Trumpet
Frankie Rodrigues — Claves, Conga, Vocals
Wilfredo Velez — Sax (Alto)
Steve Turre — Trombone, Trombone (Bass)
Angel Papo Vasquez — Trombone
Edgardo Miranda — Cuatro, Guitar
Jorge Dalto — Piano
Andy González — Bass, Coro
Steve Berrios — Bata, Chekere, Coro, Drums
Gene Golden — Bata, Bells, Chekere, Conga
Héctor Hernández — Bata, Chekere, Conga
Nicky Marrero — Guataca, Percussion, Timbales
Download / Скачать:APE
Filesonic.com
Unibytes.com
Mp3
Filesonic.com
Unibytes.com
Информация
Посетители, находящиеся в группе Гости, не могут оставлять комментарии к данной публикации.