The Jeff Gauthier Goatette - Open Source (2011)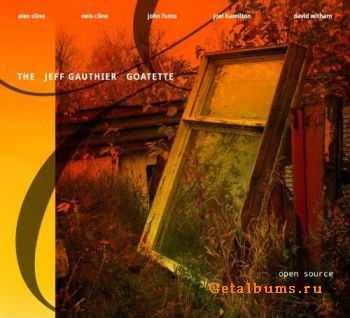 Artist
: The Jeff Gauthier Goatette
Title Of Album
: Open Source
Year Of Release
: 11-10-2011
Label
: Cryptogramophone
Genre
: Jazz
Format
: mp3
Quality
: CBR 320 Kbps
Total Time
: 58:48 min
Total Size
: 133 MB
Tracklist:
1. 40 Lashes (With Mascara) 8:24
2. From A Rainy Night 4:22
3. Seashells And Balloons 6:27
4. Prelude To A Bite 8:25
5. Things Past 8:36
6. Joy Of A Toy 7:51
7. Open Source 14:44
Open Source is the sixth recording by violinist Jeff Gauthier. The Jeff Gauthier Goatette features Wilco guitarist Nels Cline, his twin brother Alex Cline on drums, trumpeter John Fumo, pianist David Witham, and bassist Joel Hamilton. Gauthier's music draws from as many different influences as the title Open Source would suggest. From classical to jazz, to fusion to "new" and improvised music, Gauthier's compositions are informed by the many great artists he has worked with. He has been named a Downbeat "Rising Star" as both violinist and producer for several years running. As a violinist he has performed and recorded with Yusef Lateef, Nels Cline, Alex Cline, Mark Dresser, Vinny Golia, Steuart Liebig and many others. As a producer, Gauthier has worked with artists like Nels Cline, Benny Maupin, Jimmy and Stacy Rowles, Erik Friedlander, Jenny Schein man, and Alan Pasqua. Gauthier is also founder of Cryptogramophone Records, and co-producer of the Angel City Jazz festival. Gauthier will be booking the first two weeks of November 2011 at The Stone in New York City.
Информация
Посетители, находящиеся в группе Гости, не могут оставлять комментарии к данной публикации.