Michael Feinstein - The Sinatra Project, Volume II: The Good Life (2011)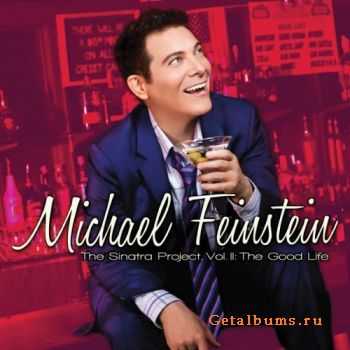 Artist
: Michael Feinstein
Title Of Album
: The Sinatra Project, Volume II: The Good Life
Year Of Release
: 24-10-2012
Label
: Such Production
Genre
: Vocal Jazz
Format
: mp3
Quality
: 320 Kbps
Total Time
: 41:13 min
Total Size
: 99.1 MB
Tracklist:
1. Thirteen Women 3:02
2. Hallelujah I Love Her So 2:47
3. C'est Comme Ça 2:53
4. Is You Is Or Is You Ain't My Baby? 3:17
5. Sway 3:32
6. Luck Be A Lady / All I Need Is The Girl 3:52
7. I'll Be Around 4:23
8. The Way You Look Tonight 4:00
9. The Lady Is A Tramp 4:21
10. For Once In My Life 3:16
11. The Good Life 3:04 $0.99
12. Once In A Lifetime 2:46
When the foremost custodian of the Great American Songbook pays tribute to the music's greatest practitioner, the results are guaranteed to be both dynamic and original. Such was indeed the case in 2008 when Michael Feinstein crafted The Sinatra Project, which marked his ninth Concord release and was nominated for a Grammy. Feinstein, long recognized as not only one of the world's finest vocal and piano stylists but also for his tireless efforts to preserve, protect and promote the songs and songwriters that shaped the golden age of American music, wanted to pay tribute to the rich Sinatra legacy, but was determined to do so in a way that was fresh and unique. With The Sinatra Project, Feinstein explains, he "decided to focus on the aspects of Sinatra's art that people don't always think about; specifically, his particular taste and style in choosing music and how he pervaded it, paying close attention to the arrangements and orchestrations, which were important elements in making Sinatra great." Feinstein took songs Sinatra had sung--some instantly familiar others relatively obscure--and reinterpreted them in "different ways that still reflected his style and approach. It was a way into the material that allowed me honor him without copying; to bring the essence of him through without being an imitator."
Now, with The Sinatra Project, Volume II: The Good Life, Feinstein has found another inventive way in. "The second volume is really about Sinatra and his friends," says Feinstein. "It's about the people he influenced and who influenced him. The focus is more on the 1960s. The album includes a few songs Sinatra never sang, which was intentional because I wanted to encapsulate that era and show that, though he was still very important, music and styles were changing. It was the ushering in of a new sensibility, and yet the 1960s was still a time when rich, standards-type songs like `For Once In My Life' were still being created alongside newer pop elements like rock and roll."
Close to a dozen superstars, many of whom Sinatra counted as close friends and also deeply admired as artists, influenced Feinstein's song selections and his stylistic choices, including Dean Martin, Sammy Davis Jr., Peggy Lee, Rosemary Clooney, Ray Charles, Tony Bennett, Ann-Margret, Duke Ellington, Fred Astaire, Nancy Wilson and Antonio Carlos Jobim. Again Feinstein combines familiar and comparatively obscure material, creating a 12-track playlist that extends from such signature Sinatra tunes as "Luck Be a Lady" and "The Lady Is a Tramp" to the extremely rare "C'est Comme Ça," co-written by Ellington and Marshall Barer for the 1966 Broadway flop Pousse Café (a musical adaptation of the 1930 Joseph von Sternberg film The Blue Angel, starring Marlene Dietrich).
In addition to producing the album, working with Feinstein on all the arrangements and orchestrations and conducting the 30-member orchestra, Elliott plays piano on eight of the dozen tracks. The album's core group also includes guitarist Jim Fox, bassist Kirk Smith, drummer Albie Berk and percussionist Bernie Dresel. Asked if it is difficult to work with another pianist when he is so accustomed to accompanying himself, Feinstein responds, "Not at all... It is fun to work with someone else because it spurs me to sing the songs a little differently." Feinstein does, however, accompany himself on four tracks, two--"The Good Life" and "Sway"--with the full orchestra and two--"C'est Comme Ça" and "I'll Be Around"--with just Smith and violinist Sid Page. As for the album's subtitle, Feinstein says he chose "The Good Life" because "it reflects the '60s, when Sinatra had gotten to a point in his life where he became iconic in a way that was different from the '50s. He really came into his own. And it was also a good time. "The Good Life" is a song from the mid-'60s and people were in many ways, if perhaps illusionary, living a good life."
Информация
Посетители, находящиеся в группе Гости, не могут оставлять комментарии к данной публикации.