Marilyn Crispell and Gerry Hemingway - Affinities (2011)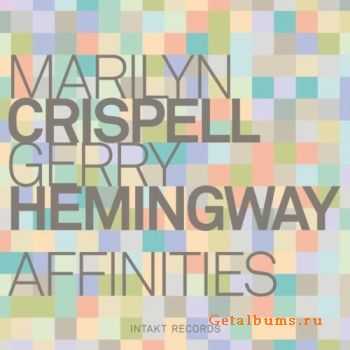 Artist
: Marilyn Crispell and Gerry Hemingway
Title Of Album
: Affinities
Year Of Release
: 01-05-2011
Label
: iMusician Digital
Genre
: Jazz
Format
: mp3/FLAC(log,cue,tracks,artwork)
Quality
: 320/Lossless
Total Time
: 58:47 min
Total Size
: 132/337 MB
Tracklist:
1. Shear Shift 14:15
2. Axial Flows 8:06
3. Starlings 10:35
4. Threadings 8:32
5. Air 7:48
6. Permeations 3:58
7. Finis 5:34
The remarkable pianist/composer Marilyn Crispell has become a whittler of delicately detailed contemporary miniatures recently (notably on Vignettes, for ECM) after 15 years negotiating the stormy waters of Anthony Braxton's music. But this live recording, mostly from Crispell's native Baltimore in 2009, finds the pianist back in spontaneous synchronicity with former Braxton drummer Gerry Hemingway, and it's much more of a balance between her reflective and intensely full-on playing. On the 14-minute Shear Shift, Crispell fires brittle chords, clipped runs and low-end rumbles into the path of an abstractly swinging Hemingway, and the two establish a heatedly seamless flow before the final delicately resolving meditation. Axial Flows pings and gleams in a playful trance, and Starlings is at first a darting exercise in dampened piano notes and pattering percussion, turning into a powerful, Cecil Tayloresque free-jazz piano outburst. Churning train-like rhythms drive the furious Threadings, but the harmony-investigation Permeations gets close to the dancing touch of Chick Corea by the close. After a long break from each other, Crispell and Hemingway once again sound joined at the hip.
Marilyn Crispell - Piano
Gerry Hemingway - Drums, Percussion, Vibraphone
Информация
Посетители, находящиеся в группе Гости, не могут оставлять комментарии к данной публикации.