Don Sebesky - Joyful Noise: A tribute to Duke Ellington (1999)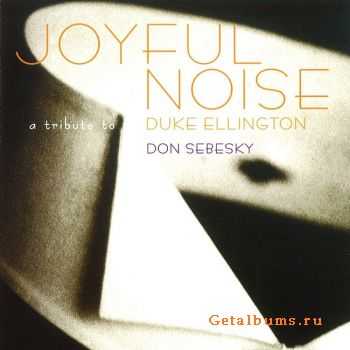 Artist
: Don Sebesky
Title Of Album
: Joyful Noise: A tribute to Duke Ellington
Year Of Release
: 1999
Label
: BMG, RCA Victor
Genre
: Progressive Jazz, Big Band, Fusion
Quality
: Mp3
Bitrate
: CBR 320 kbps
Total Time
: 01:07:55
Total Size
: 163 MB (Covers)
WebSite
:
Amazon.com
Duke Ellington is one of the great geniuses of the 20th century. The body of music for which he is responsible has influenced all of us deeply. It's difficult — impossible — to imagine what jazz would be like without him.

From this treasure chest I've selected a handful of musical gems I've long admired. My intention was not to imitate Duke. Instead, I tried to treat these great tunes in new and unexpected ways; « Chelsea Bridge » and « Mood Indigo », originally done as ballads, are given new time signatures and much faster tempos; « Creole Love Call » led by Ron Carter's insistent bass line, is much "dirtier" than Duke's version; « Caravan » is built on an arrangement Erroll Garner did for his trio on a 1954 LP (listen for his "left hand" under Phil Woods' solo).

As a special tribute, I've created a new suite, « Joyful Noise », built on Ellington's motifs and laced throughout with quotes from many of Duke's greatest compositions.

This is our love letter to this jazz master.

I give my heartfelt thanks to all the fabulous musicians who participated in performing this music which Duke so generously gave us. We all want him to know we "love him madly."
Don Sebesky
Tracklist:
01. Mood Indigo (Ellington, Bigard, Mills) - 7:56
02. Creole Love Call (Ellington, Miley, Jackson) - 8:11
03. Chelsea Bridge (Strayhorn) - 6:47
04. Caravan (Mills, Ellington, Tizol) - 5:32
05. Warm Valley (Ellington) - 3:53
06. Take The Coltrane (Ellington) - 9:20
07. Satin Doll (Ellington, Strayhorn, Mercer) - 4:14
Joyful Noise Suite (Sebesky):
08. Gladly - 6:09
09. Sadly - 6:40
10. Madly - 6:28
11. Ko-Ko (transcribed from the 1941 RCA recording) (Ellington) - 2:45
Orchestra arranged (except « Ko-Ko ») & conducted by Don Sebesky
+
Bob Brookmeyer - trombone
Ron Carter - bass
Tom Harrell - trumpet, flugelhorn
John Pizzarelli - guitar, vocals
Phil Woods - alto saxophone, clarinet
Download / Скачать:
Unibytes.com
Gigabase.com
Share4web.com
Turbobit.net
Информация
Посетители, находящиеся в группе Гости, не могут оставлять комментарии к данной публикации.