Chick Corea - The Continents: Concerto for Jazz Quintet & Chamber Orchestra (2012)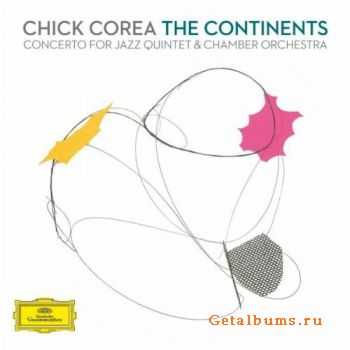 Artist
: Chick Corea
Title Of Album
: The Continents: Concerto for Jazz Quintet & Chamber Orchestra
Year Of Release
: 2012-02-07
Label
: Deutsche Grammophon / B0016441-02
Genre
: Jazz / Classical
Format
: mp3/FLAC[log,cue,tracks]
Quality
: 320/Lossless
Total Time
: 139:14 min
Total Size
: 316/710 MB
Tracklist:
Disc 1
1.Africa
2.Europe
3.Australia
4.America
5.Asia
6.Antarctica
Disc 2
1.Lotus Blossom
2.Blue Bossa
3.What's This?
4.Just Friends
5.Solo Continuum 31
6.Solo Continuum 42
7.Solo Continuum 53
8.Solo Continuum 64
9.Solo Continuum 75
10.Solo Continuum 86
11.Solo Continuum 97
12.Solo Continuum 108
13.Solo Continuum 119
14.Solo Continuum 1310
15.Solo Continuum 1411
Chick Corea is stunningly creative — and keeps finding new ways to prove it. "The Continents," titled after a 72-minute concerto for jazz quintet and chamber orchestra, is a two-album release that also includes a disc of 15 solo and small-group pieces. The concerto is a six-movement look at the large land masses. (He combines the Americas into one piece to get his count.) They are written to give jazz soloists, particularly Corea, plenty of room to solo while being surrounded by arrangements that never get too big. "America" stands out amid the six movements in its bounding, jazzy flavor and strong reed work of Ted Garland. The small-group album is highlighted by 11 solo pieces by Corea and a splendid version of "Blue Bossa" featuring the trombone of Steve Davis. As if this package of heavy creativity were not enough, the pianist is releasing on Deutsche Grammophon "On Two Pianos." That recording was made at a concert he did with classical pianist Nicolaus Economou in 1982. It consists of works by Corea with some improvisation and sections of a piano work by Hungarian composer Bela Bartok. Whether it is works like these or touring with Return to Forever, there is no stopping Chick Corea. It is available Tuesday.
Информация
Посетители, находящиеся в группе Гости, не могут оставлять комментарии к данной публикации.