Wynton Marsalis - The Music of America (2012)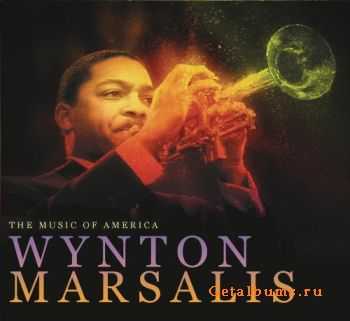 Artist
: Wynton Marsalis
Title Of Album
: The Music of America
Year Of Release
: 2012-01-24
Label
: Sony Masterworks / 88697-92397-2
Genre
: Jazz
Format
: mp3/FLAC[log,cue,tracks]
Quality
: 320/Lossless
Total Time
: 155:36 min
Total Size
: 352/833 MB
Tracklist:
Disc 1
1 - Jazz: 6 1/2 Syncopated Movements; Express Crossing (Astride Iron Horses)
2 - Jazz: 6 1/2 Syncopated Movements; "D" in the Key of "F"; (Now the Blues)
3 - Jump Start - The Mastery of Melancholy; Jump
4 - Station Call
5 - The Caboose
6 - Sweet Release; Church: Renewing Vows (Instrumental)
7 - Go, Possum, Go (Instrumental)
8 - Jean-Louis Is Everywhere
9 - For My Kids at the Collège of Marciac
10 - Sunflowers
11 - At the Octoroon Balls - String Quartet No. 1 *; Hellbound Highball (Instrumental)
12 - A Fiddler's Tale Suite; The Fiddler's March (Instrumental)
13 - All Rise; Movement 1: Jubal Step
14 - Movement 12: I Am (Don't You Run From Me) from All Rise (Edit)
Disc 2
1 - The Majesty Of The Blues (The Puheeman Strut)
2 - Jump Start - The Mastery of Melancholy; The Dance
3 - Move Over (Edit)
4 - Double Rondo On The River (Pedro's Getaway)
5 - Spring Yaounde
6 - Soul For Sale
7 - Altar Call
8 - In The Sweet Embrace of LifeSermon: Holy Ghost
9 - The Death Of Jazz
10 - Oh, But On The Third Day (Happy Feet Blues)
2012 two CD release. Wynton Marsalis brings you this self-curated collection for The Music Of America series. This set blends the diverse musical languages that personify this unique American artist and composer. The compositions are performed by a diverse group of musicians including the Los Angeles Philharmonic Orchestra, the Orion String Quartet, musicians from the Chamber Music Society of Lincoln Center, and members of The Lincoln Center Jazz Orchestra in various configurations. Speaking through the voice of a bluesman, parishioner, sophisticate, slave, philosopher, Marsalis bring an eye of a musical historian as he takes us through a musical journey of some of his most outstanding works. This collection truly personifies Marsalis as the formidable trumpet player, the world-class composer and an extraordinary contributor to The Music of America.
Информация
Посетители, находящиеся в группе Гости, не могут оставлять комментарии к данной публикации.