Buster Bailey - 1925-1940 (The Chronological Classics, 904) (1996)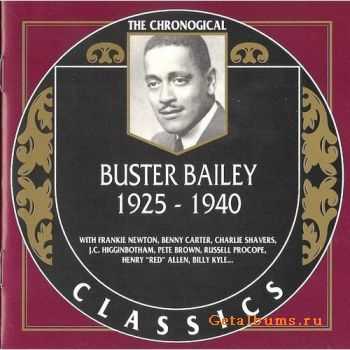 Artist
: Buster Bailey
Title Of Album
: 1925-1940 (The Chronological Classics, 904)
Year Of Release
: 1996
Label
: Classics
Genre
: Big Band, Swing
Format
: MP3
Quality
: 256 kbps I 44.1 Khz I Joint Stereo
Total Time
: 01:01:27
Total Size
: 103 mb
Other than four titles from 1959 and an obscure 1958 LP, all of clarinetist Buster Bailey's recordings as a leader are on this definitive CD from the European Classics label. Bailey -- a virtuoso whose occasional display of a wild sense of humor (best heard on "Man With a Horn Goes Berserk") was always a surprise when one considered his cool and subtle tone -- starts off the reissue with two rare (and scratchy) performances from 1925. Otherwise, he heads an all-star group filled with fellow Fletcher Henderson sidemen in 1934, backs singer Jerry Kruger, and heads several overlapping combos mostly consisting of members of John Kirby's Sextet; Kirby's influence is strongly felt throughout the later selections. Highlights overall include "Shanghai Shuffle," "Dizzy Debutante," "The Blue Room," and "Pine Top's Boogie Woogie." Highly recommended.
Scott Yanow, AMG
Tracks:
01. Papa De-Da-Da
02. Squeeze Me
03. Call of the Delta
04. Shanghai Shuffle
05. The Bed Song
06. So You Won't Sing
07. Afternoon in Africa
08. Dizzy Debutante
09. Planter's Punch
10. Slow Jam Fizz
11. Chained to a Dream
12. Light Up
13. Man With a Horn Goes Berserk
14. Should I?
15. The Blue Room
16. April in Paris
17. Am I Blue
18. Seems Like a Month of Sundays (Since I Saw You Saturday Night)
19. The Fable of the Rose
20. Pinetop's Boogie Woogie
21. Eccentric Rag
Personnel:
Buster Bailey - Clarinet, Composer, Drums, Sax (Alto), Saxophone
Henry "Red" Allen - Trumpet
Danny Barker - Guitar
Charlie Beal - Piano
Pete Brown - Sax (Alto)
Benny Carter - Sax (Alto)
Buddy Christian - Banjo
Judy Ellington - Vocals
Don Frye - Piano
Fletcher Henderson - Arranger
J.C. Higginbotham - Trombone
Elmer James - String Bass
Walter Johnson - Drums
John Kirby - String Bass
Jerry Kruger - Performer, Vocals
Billy Kyle - Piano
James McLin - Guitar
Frankie Newton - Trumpet
Russell Procope - Sax (Alto)
Charlie Shavers - Trumpet
Zutty Singleton - Drums
O'Neill Spencer - Drums
Clarence Todd - Piano
John Williams - String Bass
Download:
turbobit.net
depositfiles.com
Информация
Посетители, находящиеся в группе Гости, не могут оставлять комментарии к данной публикации.