Phronesis - Walking Dark (2012)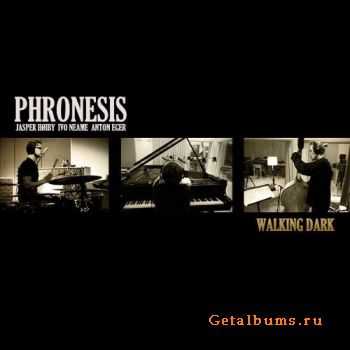 Artist
: Phronesis
Title Of Album
: Walking Dark
Year Of Release
: 2012-04-02
Label
: Edition Records
Genre
: Jazz
Format
: mp3
Quality
: 320 Kbps
Total Time
: 55:094 min
Total Size
: 156 MB
Tracklist:
01 Walking Dark 6:00
02 Passing Clouds 3:54
03 Democracy 7:34
04 Suede Trees 4:59
05 Upside Down 4:39
06 Charm Defensive 5:38
07 Lipwash, Pt. 1 1:33
08 Lipwash, Pt. 2 4:44
09 Zieding 8:48
10 The Economist 5:59
11 American Jesus 7:06
12 Eight Hours 8:03
Music by Jesper Hoiby: 1, 4, 5, 7, 8, 12
Ivo Neame: 2, 6, 11
Anton Eger: 3, 9, 10
Phronesis are a dynamic trio who need little introduction. Their fourth album, Walking Dark, is the highly anticipated follow-up to the acclaimed Alive [Edition EDN1021], which was voted Jazz Album of the Year by both Jazzwise and MOJO magazines in 2010. Since the success of this release, the band has toured widely across Europe and North America, earning consistent praise for their vibrant live performances. Formed by Danish bass player Jasper Høiby in 2005, the energy and individuality of Phronesis comes from an extraordinary democracy of expression and almost telepathic empathy between the musicians - three of the finest players on the European jazz scene today. British pianist Ivo Neame and Swedish drummer Anton Eger come together with Høiby to create a poly-rhythmic sound that is utterly accessible despite its underlying complexity, full of emotion and heart yet always delivered with clarity and direction. Walking Dark is titled in reference to a series of concerts the trio played in total darkness as a dedication to Høiby s visually impaired sister. Høiby describes Walking Dark as a joint Phronesis adventure - the first album in which all members of the band contribute to the writing, as well as the arranging. Yet through these individual compositional textures, each track nevertheless displays the characteristic groove-driven 'Phronesis sound', incorporating constantly shifting yet expertly tight rhythmic patterns and exploratory openness. The album sees all three players reaching further than ever before, creating music that by turns drives with urban energy and resonates with mountainous space and sheer delightful abstraction.
Информация
Посетители, находящиеся в группе Гости, не могут оставлять комментарии к данной публикации.