Andy Sheppard - Trio Libero (2012)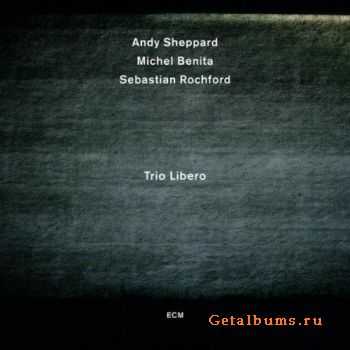 Artist
: Andy Sheppard
Title Of Album
: Trio Libero
Year Of Release
: 2012-01-30
Label
: ECM Records
Genre
: Jazz
Format
: mp3/FLAC[log,cue,tracks.artwork]
Quality
: 320/Lossless
Total Time
: 49:01 min
Total Size
: 117/384 MB
Tracklist:
1. Libertino 3:40
2. Slip Duty 3:39
3. I'm Always Chasing Rainbows 4:18
4. Spacewalk, Part 1 3:13
5. Dia da Liberdade 4:20
6. Land of Nod 3:46
7. The Unconditional Secret 4:01
8. Ishidatami 3:48
9. Skin / Kaa 6:09
10. Spacewalk, Part 2 3:50
11. Whereveryougoigotoo 3:41
12. Lots of Stairs 3:14
13. When We Live On the Stars... 4:04
UK saxophonist Andy Sheppard's second ECM album introduces his freely lyrical new trio with Michel Benita and Sebastian Rochford. All three players share a sense of stylistic open-mindedness. Drummer Rochford is one of the young players changing perceptions of British jazz with bands Polar Bear and Acoustic Ladyland, while Algiers-born French bassist Benita, who cites Charlie Haden and Scott LaFaro as influences, has played with Archie Shepp, Dewey Redman, Lee Konitz and in the ELB trio with Nguyên Lê and Peter Erskine.
Repertoire here includes originals by Sheppard, Benita and Rochford, plus group improvisations and the standard 'I'm Always Chasing Rainbows'. In all contexts, interaction is highly creative, as Benita and Rochford respond perceptively to Sheppard's melodically and rhythmically inventive lines. Although Sheppard set up a residency for the trio at Snape Maltings, Aldeburgh early in 2009, to explore the group's creative potential and to develop repertoire, this debut album was not recorded until July 2011 at Auditorio Radiotelevisione Svizzera, Lugano.
While Andy Sheppard has recorded extensively with Carla Bley for the ECM-distributed WATT label, he recorded his first ECM leader date in 2008. Movements In Colour, featuring an international line-up with John Parricelli and Eivind Aarset on guitars, Arild Andersen on bass, and Kuljit Bhamra on tabla, was acclaimed by the press and became a bestseller in Britain.
Personnel:
Andy Sheppard (tenor and soprano saxophones),
Michel Benita (double-bass),
Sebastian Rochford (drums)
Информация
Посетители, находящиеся в группе Гости, не могут оставлять комментарии к данной публикации.