Jack DeJohnette - Sound Travels (2012)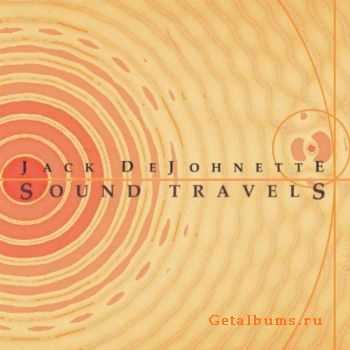 Artist
: Jack DeJohnette
Title Of Album
: Sound Travels
Year Of Release
: 2012-01-17
Label
: Entertainment One
Genre
: Jazz
Format
: FLAC [log,cue,tracks]
Quality
: Lossless
Total Time
: 52:18 min
Total Size
: 221 MB
Tracklist:
1. Enter Here [02:24]
2. Salsa for Luisito [06:56]
3. Dirty Ground [04:49]
4. New Muse [06:06]
5. Sonny Light [05:40]
6. Sound Travels [01:43]
7. Oneness [05:59]
8. Indigo Dreamscapes [08:05]
9. Home [04:34]
Personnel:
Jack DeJohnette - piano (1-7, 9), drums (2-6, 8), resonating bell (1), vocal (2), keyboards (3);
Tim Ries - tenor saxophone (2, 3, 5, 8), soprano saxophone (3, 4);
Ambrose Akinmusire - trumpet (2, 4, 5);
Lionel Loueke - guitar (2, 3, 5, 6);
Esperanza Spalding - bass (2-6, 8), vocal (2, 3);
Luisito Quintero - percussion (2-8), vocal (2);
Bruce Hornsby - vocal (3);
Bobby McFerrin - vocal (7);
Jason Moran - piano (8).
2012 promises to be a banner year for legend Jack DeJohnette, renowned as one of music's most adventurous artists and prolific drummers. He'll receive a National Endowment for the Arts Jazz Master Fellowship, the highest U.S. honor for jazz musicians. The Chicago-born, New York-based artist will also turn 70, boasting a top-drawer historical resume that ranges from his early days as a charter member of the Charles Lloyd Quartet and his seminal drumming in Miles Davis's pioneering fusion band in the late '60s and early '70s (including Bitches Brew) to his longstanding quarter-century-plus contributions to the Keith Jarrett Standards Trio as well as his own diverse solo career recording for such labels as ECM, MCA/Impluse!, EMI/Blue Note, and his own imprint Golden Beams.
Add to that another crowning achievement: DeJohnette's latest and arguably best album, Sound Travels (a co-release between Golden Beams and eOne). It's a superb genre-spanning, nine-song collection that grooves with Latin rhythms and West Indian energy, muses with meditative tunes, and buoys with straight-up jazz swing. Sound Travels features an array of collaborators, including vocalists Bruce Hornsby (on the funky, bluesy tune Dirty Ground that has AOR hit potential), Bobby McFerrin and Esperanza Spalding. Also on board are emerging talents such as trumpeter Ambrose Akinmusire and guitarist Lionel Loueke (and Spalding, who plays bass on seven of the tracks) and established jazz stars such as saxophonist Tim Ries, percussionist Luisito Quintero and, on one track, pianist Jason Moran.
But DeJohnette is the spotlighted star of the album. He composed all of the tunes (he co-composed Dirty Ground with Hornsby, who wrote the lyrics), he drums with his distinctive and passionate style, and he plays the piano (his first instrument on which he studied classical music from the age of 4 to 14) on nearly all the tracks, including the lyrical solo bookends.
DeJohnette's goal for the album was simple: I love to play grooves and beautiful melodies, he says. It was fun once we got started. It was like, let the juices flow.
Информация
Посетители, находящиеся в группе Гости, не могут оставлять комментарии к данной публикации.