Jenny Scheinman - Mischief & Mayhem (2012)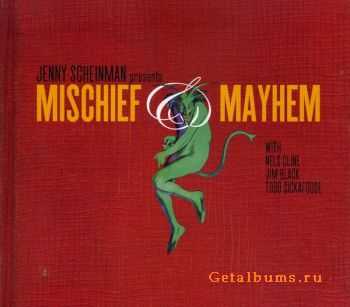 Artist
: Jenny Scheinman
Title Of Album
: Mischief & Mayhem
Year Of Release
: 2012-03-06
Label
: Tzadik
Genre
: Jazz / Violin
Format
: mp3/FLAC[log,cue,tracks]
Quality
: 320/Lossless
Total Time
: 43:33 min
Total Size
: 103/255 MB
Tracklist:
1. A Ride With Polly Jean
2. Sand Dipper
3. Blues For The Double Vee
4. Devil's Ink
5. The Audit
6. Ali Farka Touche
7. July Tenth In Three Four
8. The Mite
Anyone who has seen Jenny Scheinman perform either as a headliner or backing another artist has witnessed the absolute physical delight she exhibits in playing and improvising. Mischief & Mayhem, the title of her self-released album -- after recordings on Avant, Tzadik, Koch/E1, and Cryptogramophone -- is the very first to aurally display this trait. With a star-studded cast -- drummer Jim Black, bassist Todd Sickafoose, and guitarist Nels Cline -- Scheinman offers her canny compositional wisdom, a wicked sense of instrumental humor, and the ability to symbiotically engage in deep, communicative dialogue in improvisation. As a composer, her balance of dynamic, melody, dissonance, and texture are equally remarkable parts of these eight tunes. Opener "A Ride with Polly Jean" commences with Sickafoose playing a repetitive pattern joined by brushed snare and a plucked violin. Scheinman quickly asserts a melody line that actually feels like travel. Cline's guitar playing and effects enter the middle and fill it out, making that scenario complete. "Sand Dipper" begins in the ether and really gets moving about halfway through; it features some wooly soloing by Scheinman and kinetic, almost drum'n'bass-styled drumming from Black. "Blues for the Double Vee" begins as a rock tune but quickly establishes itself as something else entirely without losing the feel. The album's longest track, "Devil's Ink," is also its most haunting and abstract -- for its initial two-thirds. It eventually establishes a fractured groove that's so gnarly and knotty it feels like the Mahavishnu Orchestra with Jean-Luc Ponty. "Ali Farka Touche" finds Cline emulating the Malian guitar giant's phrasing and tone for a bit, but between Sickafoose's and Black's interlocking groove and Scheinman's aggressive soloing, it becomes a driving rock tune. The set closes with the hairy, ever shifting, prog rock-cum-avant-jazz rock number "The Mite." It's the set's most humorous track and has moments of Cline utterly unhinged. These tunes are really small compositional wonders with lots of kinetic space for interplay woven in. Mischief & Mayhem is the most physically attractive album in Scheinman's career thus far, because you can actually feel the collective's delight in each of these performances. It's marvelous, sly, sensual, and rugged from top to bottom.
Информация
Посетители, находящиеся в группе Гости, не могут оставлять комментарии к данной публикации.