Cassandra Wilson - Another Country (2012)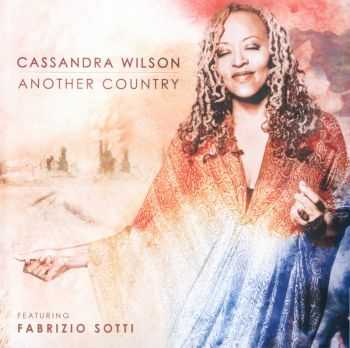 Artist
: Cassandra Wilson
Title Of Album
: Another Country
Year Of Release
: 2012-06-26
Label
: eOne
Genre
: Vocal Jazz
Quality
: 320 / FLAC
Total Time
: 43:37 min
Total Size
: 108 / 316 MB
Tracklist:
01. Red Guitar (4:34)
02. No More Blues (4:17)
03. O Sole Mio (5:37)
04. Deep Blue (2:27)
05. Almost Twelve (4:22)
06. Passion (5:17)
07. When Will I See You Again (6:25)
08. Another Country (4:13)
09. Letting You Go (3:27)
10. Olomuroro (3:02)
'Another Country' is the 18th album from jazz vocalist Cassandra Wilson, who has built up a loyal fan base thanks to her eight albums for the Blue Note label during almost two decades with that esteemed imprint. She is one of the very few jazz artists whose artistic influence and contributions have been matched by unqualified commercial success. Creatively, Cassandra Wilson has never rested on her laurels, and her new album is no exception to the rule. Nine of the ten songs are composed by Ms. Wilson and/or her collaborating partner, guitarist-producer Fabrizio Sotti, with the tenth a very special arrangement by the duo of the classic aria, "O Sole Mio". Recorded in Florence, Italy, the entire sound of the album is intimate, guitar-driven, and lushly romantic. Throughout her career Wilson has received a litany of awards and her music has received high praise for its fusion of jazz, roots, country, pop and world music. Among her numerous honours, Wilson has received two Grammy Awards, she dominated the Downbeat "Critics Poll" for 11 consecutive years from 1996 to 2006, and winning again from 2008-2011. Wilson was also awarded the Downbeat "Reader's Poll" ten times, received The Miles Davis Prize at the 1999 Montreal International Jazz Festival and was named "America's Best Singer" in 2001 by TIME. Wilson is also well known for her collaborations including notable performances with The Roots, Wynton Marsalis, Angélique Kidjo, Bill Frisell, Elvis Costello and Terence Blanchard.
Personnel: Cassandra Wilson (vocals), Fabrizio Sotti (acoustic guitar), Mino Cinelu, Lekan Babalola (percussion), Nicola Sorato (electric bass), Julien Labro (accordion), NOCCA (New Orleans Center for Creative Arts) Chamber Choir.
Информация
Посетители, находящиеся в группе Гости, не могут оставлять комментарии к данной публикации.