Sans Chichi - Mute 'n Muse (2012)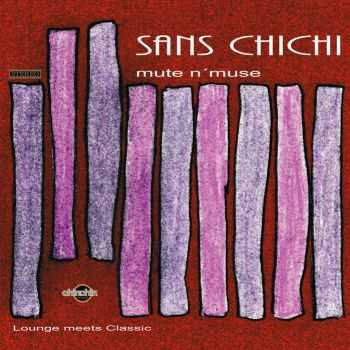 Artist
: Sans Chichi
Title Of Album
: Mute 'n Muse
Year Of Release
: 2012-03-16
Label
: ChinChin Records / AC 2078
Genre
: Jazz / Nu Jazz / Lounge
Quality
: 320 / FLAC
Total Time
: 44:04 min
Total Size
: 98 / 251 MB
Tracklist:
1. Gentle Moods 3:17
2. Dolly's Run 3:40
3. Laius d' Annemarie 3:59
4. Sans Chichi 1:20
5. Pauline 3:43
6. Lost Moments 5:03
7. Lovely Bör 2:02
8. The Contract 2:40
9. Steps 1:05
10. Successive 4:53
11. 6 four fun 4:11
12. Black Coffee 4:41
13. Midnight Tune 3:30
Surprisingly, it's hard to find any information on who Sans Chichi is (or are), though we now know rather a lot about a French racehorse with the same name. Whoever's behind it, Mute N Muse is a charming, smoking jacket-sporting fusion of twinkling restaurant jazz, fireside grooves and emotion-rich downtempo groovery. While there's the odd uptempo cut - see the fuzzy instrumental soul of "Dolly's Run" and snappy "Pauline" - the overall feel is much more languid, downbeat and lounge-friendly, with extensive piano solos and hissing jazz cymbals to the fore. Music like this can sometimes get a bit "lift muzak", but Sans Chichi sidestep this potential pitfall with effortless ease.
Информация
Посетители, находящиеся в группе Гости, не могут оставлять комментарии к данной публикации.