Naoya Matsuoka - Collection (8 album's)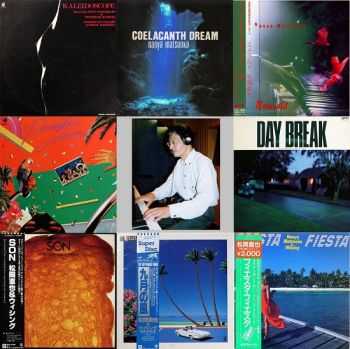 Artist
: Naoya Matsuoka
Title Of Album
: Collection
Year Of Release
: 1979-1997
Genre
: Crossover Jazz, Funk-Fusion,Соntemporary Jazz
Format
: MP3
Quality
: 320 kbps I 44.1 Khz I Joint Stereo
Total Time
: 06:06:35
Total Size
: 860 mb (+5%rec.)
WebSite
:
discogs.com
Tracks:
Naoya Matsuoka - 1979 - Kaleidoscope
1. Fall Forever
2. Dried Flower & Dried Love
3. Ivory Islands
4. Cadillac
5. Fancy Prance
Keyboardist Naoya Matsuoka teams up with harmonica player Toots Thielemans on this album which was released in 1979 on Warner Bros. Japan, personnel is Toots Thielemans on harmonica, Naoya Matsuoka on piano, Hiroshi Yasukawa, Tsunehide Matsuki, Kiyoshi Sugimoto and Takayuki Hizikata on guitar, Shigeharu Mukai on trombone, Shuichi "Ponta" Murakami on drums, Michio Nagaoka and Getao Takahashi on bass, Hidefumi Toki and Yasuaki Shimizu on sax, Pecker on percussion and Hiroshi Sukegawa on synthesizer programming.
Naoya Matsuoka - 1996 - Coelacanth Dream
Tracks 1-10 all have Japanese titles.
1. 雨上がりの街
2. 風と歩こう!~トワイライト・ステップ
3. 七つの海を越えて
4. エデン~裸足のままで
5. 海岸通りの"ジェシーズ・バー"
6. 夕陽を抱きしめて
7. シーラカンス碧(ブルー)
8. レディ・スワロウ
9. 太陽がある限り~Asi es la vida
10. 出逢いの扉
Related Artists:::
Naoya Matsuoka - Piano, Percussions, Steel Drums
Cetao Takahashi - Bass, Percusions, Vocal
Michiaki Tanaka - Percussions
Willie Nagasaki - Percussions
Isamu Ohashi - Guitars
Toshiaka Otsubo - Synthesizers
Yoshitaka Enomoto - Drums
Akira Sotoyama - Druns
Koichi Suzuki - Trumpet, back-vocal
Yasushi Gitanda - Trumpet, back-vocal
Syuichiro Ise - Trumpet
Masato Mochizuki - Trombone
Hiroyuki Nomura - Trombone
Kazuhiko Kondo - Alto sax
Yoshitaka Kuratomi - Tenor sax
Rie Akagi - Flute
Mayumi Matsuoka - Vocal
All songs arranged and composed by Naoya Matsuoka
Naoya Matsuoka - 1997 - Emerald
1 Emerald (14:32)
2 Deep Sea (4:04)
3 Cross the Atlantic (15:02)
4 Prime of Life (10:25)
5 Groovin' High (5:25)
6 Messenger (8:14)
7 Nuestra Fiesta (10:21)
8 Django Bop (5:08)
9 Legend of Love (3:32)
With 1997's Emerald, Naoya Matsuoka commemorates his 45th anniversary as a jazz artist with a fully acoustic album. All nine tracks were composed by this exemplary Japanese musician, who confers an engaging exultancy that holds the attention with subtle grace and explicit ingenuity. It would not be too far fetched to presume that this exuberance stems from Matsuoka's own realization that he has come a long way, and this album in many ways showcases his personal triumph.

The first track establishes the atmospheric motif for the rest of the album, and rightfully so given that the album shares the same name. Matsuoka demonstrates his innate vibrancy, arranging a blithe and athletic fourteen minutes and thirty two seconds song that sweeps, climbs, and twists. "The Deep Sea" proffers a converse disposition to "Emerald," illustrating Matsuoka at two different ends of the spectrum. This track creeps along sinuously, exuding a likable ambivalence of quiet sensibility seemingly pregnant with passion barely held in check. The third track "Cross the Atlantic" proves to be a happy medium between the two, retaining and combining these contrary qualities to produce a Latin-inspired concoction.

"The Prime of Life" is truly exceptional, starting off with a somewhat nostalgic, unaccompanied piano arrangement that lends a delicate sense of satisfaction and whimsy before launching into a palpable demonstration of the aptly titled "The Prime of Life". Although it still retains the established mood of the initial piano, the rest of the song accentuates itself continuously with the incorporation of each musical instrument into the piece. "Groovin' High" illustrates less Latin influence than its compeers. Matsuoka may have had jazz club performances in mind when he sat to compose this cool and charming piece, as the song seems more fitted for a low lit lounge. "Nuestra Fiesta" proves the opposite, as its Latin-flavored nature seems more appropriate for swaying hips and timed steps. "Legend of Love" closes this album on a softer note, rendering it all the more memorable.

There is much to be discovered in Naoya Matsuoka's Emerald. Whatever the occasion, whether private or public, alone or in company, this album will frame that experience with bold panache and gumption.

Personnel: Naoya Matsuoka: piano; Getao Takahashi: bass; Akira Sotoyama: drums; Rie Akagi: flute; Koichi Suzuki: trumpet; Shigeharu Mukai: trombone; Hidefumi Toki: saxophone; Tatsuya Sato: saxophone; Hitoshi Hamada: vibraphone.
Naoya Matsuoka & Hidefumi Toki - 1981 - Pacific Jam
1. Antes De Mais Nada
2. Feelin' Gently
3. In The Morning
4. Toyland
5. Night Trip
6. Pao De Acucar
7. Epilogue
Saxophone player Hidefumi Toki and keyboardist Naoya Matsuoka team up on this album with an all-star cast, it was released in 1981 on Discomate Records and features Ndugu Chancler, Byron Miller, Roland Bautista, Paulinho Da Costa, Flora Purim, David T. Walker and Buddy Collette, plus William Henderson and his strings section. The session was produced by the leaders and recorded in California.
Naoya Matsuoka & His All Stars - 1979 - Day Break
01 The Dark Night
02 Horizon
03 Mi Son Montuno
04 Romantic Journey
05 Amanecer (Day Break)
* Naoya Matsuoka : keyboards
* Kazumi Takeda : trumpet & flugelhorn
* Kenji Nakazawa : trumpet & flugelhorn
* Shigeharu Mukai : trombone
* Hidefumi Toki : alto & soprano sax
* Yasuaki Shimizu : tenor sax
* Takeshi Itoh : tenor sax
* Masaaki Itoh : bass
* Shuichi "Ponta" Murakami : drums
* Osamu Nakajima : latin percussion
* Hideo Yamaki : latin percussion
* Yoshinori Nohmi : latin percussion
Naoya Matsuoka & Wesing - 1979 - Fiesta Fiesta
1 Pao De Acucar
2 Fiesta Fiesta
3 Silver Night Fever
4 Moonlight Sand
5 Take 6 4 5
Naoya Matsuoka and Wesing for Discomate Japan from 1979.
"Pao De Acucar" is a 100mph brazilian flavoured fusion banger;"Take 645" keeps the latin feel but slows it down - big in jazz funk circles back in the day.
The rest of the lp is pretty much run of the mill Jap jazz funk apart from the nauseating "Fiesta Fiesta" with its cod reggae sound and girlie vocals-truly hideous stuff.

Naoya Matsuoka & Wesing - 1980 - Son
1. Rap Out (Oye Baila Mi Son)
2. Adria
3. Mistica Latina
4. Descarga
5. Noche Corriendo
6. Fisherman's Break
7. Let It Happen Again
Nayoa Matsuoka on piano & keyboards released this LP in 1980 on Warner Bros. Japan, it features as special guests the "Latin Percussion Jazz Ensemble" aka Tito Puente on timbales, Carlos Patato Valdez on congas, Johnny Rodriguez on bongos & cowbell and Andy Gonzalez on bass. The other players are Kenji Omura and Akira Wada on guitar, Getao Takahashi and Yuji Nakamura on bass, Yuichi Togashiki and Kanya Kazama on drums, Pecker on congas, Martin Willweber on timbales & cowbells, Osamu Nakajima on shaker & congas, Kazumi Takeda and Kenji Nakazawa on trumpet & flugelhorn, Tadanori Konakawa on trombone and Yasuaki Shimizu and Hidefumi Toki on sax.
Naoya Matsuoka & Wesing - 1982 - September Wind
1. The September Wind (You're Romantic)
2. A Season Of Love
3. Adria
4. Noche Corriendo
5. A Memory Of Majorca
6. Evening Tide
Japanese keyboardist Naoya Matsuoka released this album in 1982 on Warner-Pioneer Japan, players are Pecker, Atsushi Umehara, Shuichi Murakami, Yuji Nakamura, Kenji Omura, Osamu Nakajima, Kazumi Takeda, Kenji Nakazawa, Tadanori Konakawa, Hidefumi Toki, Taeshi Itoh, Hiroshi Sukegawa, Akira Wada, Kanya Kazawa, Martin Willweber, Tito Puente, Carlos Patato Valdez, Johny Rodriguez, Getao Takahashi, Yuichi Togashiki, Kazumi Takeda and others.
Информация
Посетители, находящиеся в группе Гости, не могут оставлять комментарии к данной публикации.