Magic Malik - Alternate Steps (2012)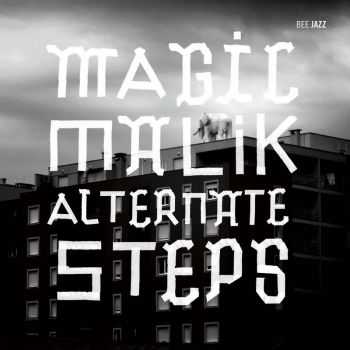 Artist
: Magic Malik
Title Of Album
: Alternate Steps
Year Of Release
: 2012-07-31
Label
: Bee Jazz / BEE 053
Genre
: Jazz
Quality
: 320 / FLAC
Total Time
: 59:31 min
Total Size
: 135 / 327 MB
Tracklist:
1. Limited XP2 Alternate
2. Limited XP2
3. Limited XP1
4. Junon 6
5. Chant Ameridien Alternate
6. Parkinson
7. Junon 8
8. Chant Améridien 2
9. Junon 4
10. 26-3
Personnel:
Magic Malik: flute, vocals;
Sanne van Hek: trumpet;
Jozef Dumoulin: keyboards, effects, programming;
Jean-Luc Lehr: electric bass;
Maxime Zampieri: drums.
Flutist Malik Mezzadri grew up on the Caribbean island of Guadeloupe, and moved to France to study at the conservatory in Marseille when he was 17. There he would win the first prize in flute; for more than twenty years, his subsequent idiosyncratic career as Magic Malik has seen him energetically flitting about the territory where jazz gives way to other musical forms: contemporary classical, pop, various kinds of experimentation. He has often organized his own groups' music in the form of "XPs" (derived from "experiences"), with prescribed modes and rules of conduct for the musicians.
The XPs—as well as three "Junon" compositions—make their appearance on Alternate Steps. Malik's distinctive musical language is not ingratiating; all the tracks are rigorous, informed by clear musical intelligence and skillfully executed by all five musicians, but they do not pander. Though this is essentially the same band heard on Malik's earlier Short Cuts (Bee Jazz, 2011), the mood is more focused and uncompromising on this disc.
Jean-Luc Lehr's electric bass is generally charged with providing a regular pulse (though Lehr has appealing guitar-like solo passages, as during "Chant Amerindien Alternate"). Maxime Zampieri's drums, meanwhile, sounds something like a typewriter: resolute, purposive (and also slightly flat), but not rhythmic. Over this disorienting bedrock, Malik's flute and Sanne van Hek's trumpet enter arrhythmically, atonally, in no way obviously linked to the regular bass pulse. Gradually, a swirling melodic figure—often bolstered by Jozef Dumoulin's panoply of electric keyboards—emerges from the flute/trumpet duo.
These swirling figures alternate with solo features for the players, where Malik and van Hek in particular display an almost classical-sounding virtuosity that substantially enriches the somewhat austere color scheme of the compositions.
Dumoulin merits a special mention for the impishly anarchic value his electric keyboard playing adds to the album; jangly on "Junon 6," explosive on "Junon 4." The keyboardist confirms his credentials for enlivening an ensemble on the heels of Plugged In (Bee Jazz, 2012), his excellent record with saxophonist Jerome Sabbagh.
Given enough time, and with some good fortune, these elements coalesce into a small-group sound that is quite novel and pleasing in its way. "Junon 4," clocking in at over thirteen minutes, is perhaps the most successful track precisely because its length allows the components of the performance to take shape and cohere.
Информация
Посетители, находящиеся в группе Гости, не могут оставлять комментарии к данной публикации.