Dafnis Prieto Proverb Trio - Proverb Trio (2012)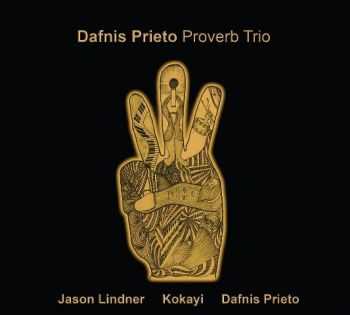 Artist
: Dafnis Prieto Proverb Trio
Title Of Album
: Proverb Trio
Year Of Release
: 2012-07-09
Label
: Dafnison Music
Genre
: Jazz, World
Quality
: 320 / FLAC
Total Time
: 65:15 min
Total Size
: 147 / 411 MB
Tracklist:
1. Into the Light Love 4:45
2. You and Me 3:53
3. The Magic Danzonete 4:32
4. Extasis 5:07
5. You Got It 4:42
6. In War 7:28
7. Vamos a Jugar 7:02
8. Talking to Much 6:44
9. What Have We All Done 3:35
10. Dirty Us 4:27
11. Mystery Man 4:40
12. Mother Nature 8:20
"Everything was improvised," says Dafnis Prieto. "We did the entire album in six hours."
He's speaking about DAFNIS PRIETO PROVERB TRIO, the eponymous album that's about to be released on Prieto's label Dafnison Music. The group made its debut in 2009 at the Whitney Museum in New York, but this is their first album, recorded after more than two years of improvising in front of live audiences in both the US and Europe – and it's the first album Prieto has made since being awarded a MacArthur Fellowship (the "genius grant") in 2011.
Combining Kokayi's freestyle poetry encompassing song, rapping, and vocal percussion, Dafnis Prieto's explosive drumming, and Jason Lindner's rhythmically intense electronic keyboards, the DAFNIS PRIETO PROVERB TRIO attempts to bring the refinement of composition to the action of collaborative improvisation. Each of Prieto's five albums as a leader has been radically different, with a different instrumentation around his drums and a different set of challenges for the players. On this one, "we're creating songs," he says – not sprawling jams, but concise structures and infectious grooves created collectively, on the fly, around a poetry that is as improvised as the instrumental parts.
Информация
Посетители, находящиеся в группе Гости, не могут оставлять комментарии к данной публикации.