Philip Catherine - Cote Jardin (2012)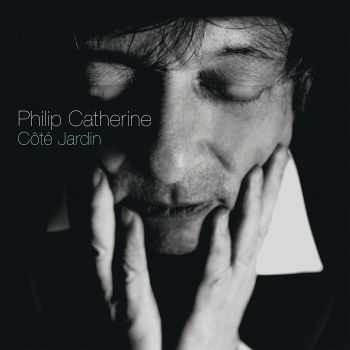 Artist
: Philip Catherine
Title Of Album
: Cote Jardin
Year Of Release
: 2012
Label
: Challenge Jazz
Genre
: Contemporary Jazz, Smooth Jazz, Fusion, Guitar
Quality
: Mp3
Bitrate
: CBR 320 kbps
Total Time
: 60:18
Total Size
: 142 MB
WebSite
:
Amazon.com
"Philip Catherine: a sound, Philip Catherine: a man with a stunning originality, a guitarist embracing tradition, but so much finding his own road coming from that tradition. Philip the composer, Philip the virtuoso, Philip the artist searching for more, for something fresh, a new angle.

The origin of the CD you hold in your hand goes back into Philip's musical past. Somehow Philip's strongest expression might be in his original compositions where he tries to paint musical pictures that each have a strong musical identity. His way of shaping the music in this way can be clearly traced back to his wonderful recording "Transparence" (1986), and one can also observe examples on different albums afterwards.

Since a short while Philip created a new band with two young and upcoming musicians on the Belgian scene: Nicola Andrioli (1977),an Italian pianist living in Brussels, is more than a gifted and excellent instrumentalist: he is a strong composer and his sense of always knowing to play what is right for the situation is breathtaking. Drummer Antoine Pierre (1992!) somehow embraces it all: proficient in the modern idiom, yet with the ability to create a loose, deep and flexible swing when needed -a trait that is so very rare with drummers nowadays. Bassist Philippe Aerts (1964) has been on Philip Catherine's side for almost 20 years and knows like no other how to cement the energy of the other band members into cohesiveness. His role is perhaps subdued, yet so essential in the creation of the music as a whole. The secret ingredient of this record for me is the presence of keyboard player Philippe Decock. His tasteful and often unusual use of sounds give the music a depth in sound and texture. A special word has to be dedicated to Philip's daughter Isabelle. Isabelle came into the studio to sing one of her father's classic tunes; "Côté Jardin" with gorgeous lyrics by Jacques Duvall. Her intimate interpretation draws one in. There is a graceful beauty about the way Isabelle delivers the words and the melody, unassuming and delicate, yet strong in its expression."(from the linernotes of the cd by Hein Van de Geyn)
Tracklist:
01. Misty Cliffs
02. Seven Teas
03. Lost Land
04. La Prima Vera
05. Côté Jardin
06. The Hostage
07. Virtuous Woman
08. Yellow Landscape
09. Janet
10. Je me suis fait tout petit
11. Gilles et Mirona
12. Karagoz
****************************
Philip Catherine
- guitars
Nicola Andrioli - piano
Philippe Aerts - bass
Antoine Pierre - drums & percusions
Philippe Decock - keyboards
Isabelle Catherine - vocals (5)
Download / Скачать:
Rapidgator.net
Turbobit.net
Информация
Посетители, находящиеся в группе Гости, не могут оставлять комментарии к данной публикации.