Orchestre National De Jazz - Piazzolla! (2012)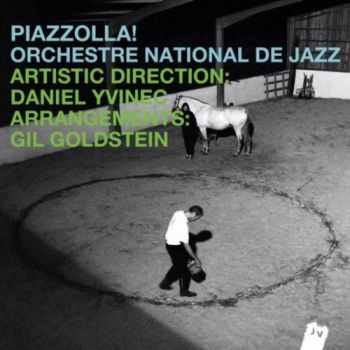 Artist
: Orchestre National De Jazz
Title Of Album
: Piazzolla!
Year Of Release
: 2012-11-05
Label
: Jazz Village
Genre
: Jazz
Quality
: 320 / FLAC
Total Time
: 71:14 min
Total Size
: 163 / 402 MB
Tracklist:
1. Intro : El dia que me quieras 1'27
2. Chiquilin de Bachin / Balada para un loco 10'06
3. Libertango 7'51
4. El dia que me quieras / Oblivion 7'50
5. Tres minutos con la realidad 7'39
6. Flores negras 0'43
7. Mi refugio 8'10
8. Adiós Nonino 9'31
9. Soledad / Vuelvo al sur 11'23
10. Pantaléon improvisacion 2'07
11. Sunny's Games 4'29
Eve Risser - piano, prepared piano & flutes
Vincent Lafont - keyboards, piano & electronics
Antonin-Tri Hoang - alto sax, clarinet, bass clarinet, piano
Matthieu Metzger - alto, soprano & midi saxes, trombophone
Remi Dumoulin - tenor sax, clarinet & bass clarinet
Joce Mienniel - piccolo, flute, bass flute & electronic treatments
Sylvain Bardiau - trumpet, flugelhorn, trombone (valve)
Pierre Perchaud - electric & acoustic guitars
Sylvain Daniel - electric bass
Yoann Serra - drums
Gil Goldstein - arrangments
Daniel Yvinec - art direction
The ingenious artist, Piazzolla who crossed borders to mesh musical style and culture, symbolizes the many values that Daniel Yvinec holds dear, and that are inherent to the artistic approach he has used with his ONJ since 2009. Piazzolla's works are the perfect exploration playground for an orchestra accustomed to in-depth examination of sound, colour, individual and group playing that advocates open jazz far from parochial and stylistic concerns. Daniel Yvinec worked closely on the conception of this new repertoire with the brilliant musician and arranger, Gil Goldstein. Their work focuses on the melodies and rhythm developed throughout the Argentinean master's works, as much as it does on Piazzolla's bandoneon playing - the essential components that give this music its very special flavour. Piazzolla! by the ONJ celebrates the diversity of this music, offering a new and audacious reading full of surprise.
Информация
Посетители, находящиеся в группе Гости, не могут оставлять комментарии к данной публикации.