The Tomy Evans Orchestra - The Green Seagull (2012) HQ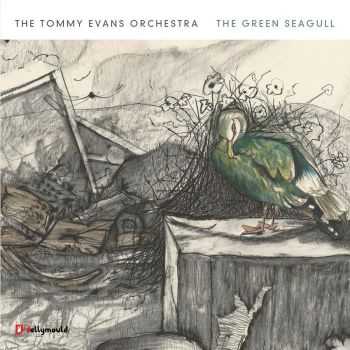 Artist
: The Tomy Evans Orchestra
Title Of Album
: The Green Seagull
Year Of Release
: 2012
Label
: Jellymould Jazz (JM-JJ009)
Country
: UK
Genre
: Contemporary Jazz
Quality
: FLAC (tracks) WEB | Mp3
Bitrate
: Lossless | CBR 320 kbps
Total Time
: 01:45:41
Total Size
: 646 MB | 253 MB
WebSite
:
qobuz.com
Tommy Evans, the young, Leeds-trained musician whose teachers have included Matthew Bourne, has already won some high-end attention as a big-band writer (including the British Academy of Songwriters, Composers and Authors' Contemporary Composers' award), and he has a key role in the innovative dubstep group Submotion Orchestra into the bargain. This suite - a chronological tribute to the work and life of his parish-priest uncle David Partridge (a marine who became an active pacifist, a priest who prays at the mosque, an interfaith preacher of acceptance and tolerance) - was performed at the London jazz festival - but its subtleties are rather better portrayed on this double album, which includes both the original themes and a collection of producers' remixes. Evans very effectively uses a trio of singers instrumentally, and sometimes recalls the hard-riffing directness of the early Mike Westbrook band in the way rousing ensemble sections trigger dynamic – and sometimes unexpectedly smokey – sax improvisation. There are stamping military tattoos, poignant minglings of pub-piano twangs and slowly pulsing horn textures, free improv (notably from formidable bassist Dave Kane), churchy solemnities from flutes and low woodwind, and some delicious mixing of brass-band sounds with the fragile cooing of the singers. Evans has come on a long way since his graduation. (John Fordham, Guardian)
Tracklist:CD1
01. Early Doors
02. Per Mare, Per Terram
03. Cardboard Box
04. The North Dole
05. Seatbelt
06. Last Orders
07. Acceptance
08. Prayers for the Enemy
09. Early Learnig Centre
10. Daffodils
CD2
01. Early Doors (Laxx Remix)
02. Cardboard Box (Eddie Ranking Remix)
03. Seatbelt (LeVel Remix)
04. Last Orders (Krendle Massacre 'Ghost' Remix)
05. Acceptance (Toby IOI 'Bass' Remix)
06. Acceptance (Phaelah Remix)
07. Prayers for the Enemy (Planas a.k.a. Seemore Productions Remix)
08. Daffodils (Synkro Remix)
*************************
Tommy Evans - condecter, compositions
Matt Roberts – trumpet, flugelhorn
Simon Beddoe – trumpet, flugelhorn
Russ Henderson – saxophones
Simon Kaylor – saxophones
Rob Mitchell – saxophones
Nick Tyson – guitar
Jami Sheriff – piano
Dave Kane – bass
Kris Wright – drums
Ruby Wood - vocal
Anna Stott - vocal
Kari Nergaard-Bleivik - vocal
Download / Скачать:FLAC
Rapidgator.net CD1
Rapidgator.net CD2
Turbobit.net CD1
Turbobit.net CD2
Mp3
Rapidgator.net
Turbobit.net
Информация
Посетители, находящиеся в группе Гости, не могут оставлять комментарии к данной публикации.