Johnny Richards - Mosaic Select 17 (1955-66) [3CD BoxSet] (2005)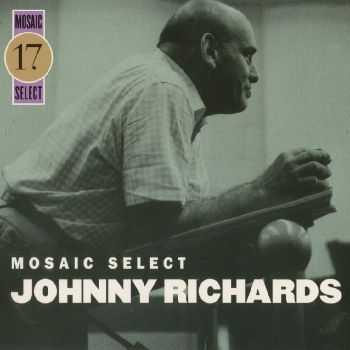 Artist
: Johnny Richards
Title Of Album
: Mosaic Select (Mosaic Remaster)
Year Of Release
: 2005
Label
: Mosaic Records / Capitol (MS-017)
Genre
: Orchestral Jazz, Progressive Jazz, Third Stream, World
Quality
: FLAC (image+.cue+.log) | Mp3
Bitrate
: Lossless | CBR 320 kbps
Total Time
: 03:26:36
Total Size
: 1,06 GB | 530 MB (Scans)
WebSite
:
Mosaic Select Johnny Richards
Tracklist:CD1
01. Annotations of the Muses, Pt. 1
02. Annotations of the Muses, Pt. 2
03. Annotations of the Muses, Pt. 3
04. Nipigon
05. So Beats My Heart for You
06. Walkin'
07. Nina Never Knew
08. The Ballad of Tappan Zee
09. Cimarron
10. Stockholm Sweetnin'
11. Close Your Eyes
12. The Nearness of You
13. Young at Heart
14. Walkin' - (Binaural Take, alternate take)
15. Cimarron - (Binaural Take, alternate take)
16. Lake Tahoe - (previously unreleased)
17. Tempest on the Charles - (previously unreleased)
CD2
01. Omo Ado
02. What Is There to Say
03. Estoy Cansado
04. Theme from the Concerto to End All Concertos
05. How Are Things in Glocca Morra
06. Terpsichore
07. Je Vous Adore
08. Neolore
09. This Time
10. No Moon at All
11. Omo Ado
12. Kele Kele
13. La Pecadora
14. Ochun
15. Oluo Anu
16. Ofo
CD3
01. Get Me to the Church on Time
02. On the Street Where You Live
03. I Could Have Danced All Night
04. Wouldn't It Be Loverly
05. Show Me
06. The Rain in Spain
07. I've Grown Accustomed to Her Face
08. With a Little Bit of Luck
09. Viva Gordo
10. Nada Mas
11. El Sombrero de Metal
12. Plata de Azul
13. Manzanita
14. Imprévu
15. Chapultepec
16. Me Voy
17. Pulque
Personnel
: Dave Lambert & His Singers (vocals); Julius Baker (flute); Joel Kaye, Billy Slapin (piccolo, baritone saxophone); Jimmy Abato (clarinet); Bobby Bloom (oboe); Harold Goltzer (bassoon); Gene Quill, Jerry Dodgion, Arnie Lawrence (alto saxophone); Clifford Jordan, Frank Perowsky, Frank Socolow, Seldon Powell (tenor saxophone); Shelly Russell, Shelly Gold (bass saxophone); Burt Collins (trumpet, flugelhorn); Ernie Royal, Nat Pavone, Jerry Kail, Bob McCoy, Joe Wilder, Marvin Stamm, Ray Copeland , Doug Mettome, Paul Cohen , Charlie Shavers (trumpet); Paul Ingraham, Al Antonucci, Julius Watkins, John Barrows (French horn); Frank Rehak, Garnett Brown, Mickey Gravine, Jiggs Whigham, Jimmy Cleveland, Tom McIntosh, Wayne Andre, Bill Watrous, Billy Byers (trombone); Jay McAllister, Don Butterfield (tuba); Bob Pancoast, Hank Jones (piano); Sol Gubin (drums, maracas, timpani); Ronnie Bedford, Jimmy Campbell (drums); Carlos "Patato" Valdes (congas); Pete Terrace, Sabu Martinez (bongos); Ubaldo Nieto (timbales); Joe Venuto (timpani, percussion); Willie Rodriguez (timpani); Al Epstein, Alvin Goldberg, Warren Smith , Steve Little (percussion).
Download / Скачать:FLAC
Uploaded.to 1
Uploaded.to 2
Turbobit.net 1
Turbobit.net 2
Rapidgator.net 1
Rapidgator.net 2
Mp3
uploaded.to
Turbobit.net
Rapidgator.net
Информация
Посетители, находящиеся в группе Гости, не могут оставлять комментарии к данной публикации.