VA - An All Star Tribute To Frank Sinatra (2015)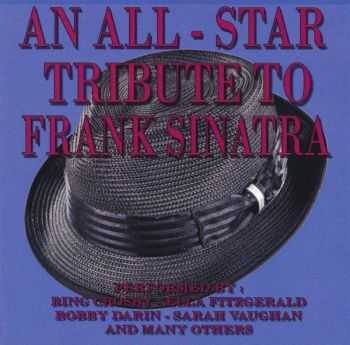 Performer: VA
Album: An All Star Tribute To Frank Sinatra
Label: AAO Music
Catalog #: UMMC 22612
Style: Vocal, Jazz
Year: 2015
Format: Flac (*image + .cue,log,scans)/ mp3
Bitrate: lossless/ 320 kbps
Covers: in archive
Amount of tracks: 24
Size RAR: ~ 312 MB/ ~ 169 MB
Upload: deposit, rusfolder
Recovery: 3%
Password: sim-sim

Francis Albert Sinatra (12/12/1915 - 14/05/1998 ). В начале своей музыкальной карьеры не имея музыкального образования, он не знал даже нот, но желание петь преодолело все преграды стоявшие перед новичком, и уже в 1943 году он был назван Лучшим певцом года. Песни в его исполнении вошли в классику эстрады и стиля свинг, стали наиболее яркими образцами эстрадно-джазовой манеры пения. На последнем большом концерте в штате North Carolina Sinatra пел с телесуфлером - память серьезно подводила живую легенду. Один из критиков по этому поводу остроумно заметил, что Sinatra - как Колизей. Частично разрушен, но все также завораживает. Действительно, в мире еще не было исполнителя, который оставался бы популярен на протяжении нескольких поколений. Его любили и ненавидели, но никто никогда не сомневался в величии его таланта. Он был настоящим гением, сильной личностью, способной на великие дела. Певец всегда верил в свои силы и шел только вперед. Не зря на его надгробии выгравированы слова: The Best Is Yet To Come (Лучшее - впереди).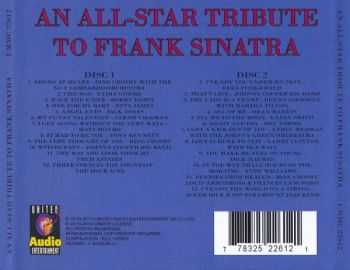 1. Bing Crosby with the Guy Lombardo Orchestra - Young At Heart (2:47)
2. Eydie Gorme - Chicago (2:29)
3. Bobby Darin - Mack The Knife (3:09)
4. Etta James - One For My Baby (3:30)
5. Jack Jones - Angel Eyes (3:16)
6. Sarah Vaughan - My Funny Valentine (3:02)
7. Matt Monro - I Get Along Without You Very Well (3:59)
8. Tony Bennett - It Had To Be You (2:58 )
9. Bing Crosby - The Very Thought Of You (2:58 )
10. Johnny Cooper Big Band - Witchcraft (2:45)
11. Fred Astaire - The Way You Look Tonight (1:57)
12. The Four Aces - Three Coins In A Fountain (3:01)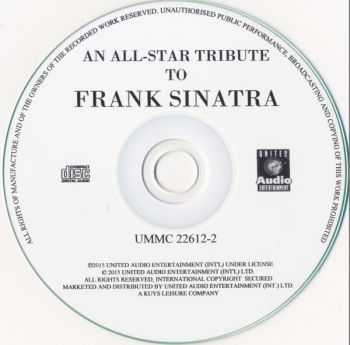 1. Ella Fitzgerald - I've Got You Under My Skin (2:40)
2. Johnny Cooper Big Band - That's Life (3:00)
3. Benny Goodman with Martha Tilton - The Lady Is A Tramp (3:02)
4. Dean Martin - All Of Me (2:53)
5. Keely Smith - Fly Me To The Moon (1:43)
6. Mel Torme - Night & Day (2:44)
7. Ether Merman with the Johnny Green Orchestra - I Get A Kick Out Of You (3:06)
8. Larry Clinton Orchestra with Bea Wain - Love Is Here To Stay (3:07)
9. Dick Haymes - You Make Me Feel So Young (2:47)
10. Andy Williams - In The Wee Small Hours of the Morning (2:53)
11. Bing Crosby, Louis Armstrong & Frances Langford - Pennies From Heaven (4:18 )
12. Acker Bilk & His Paramount Jazz Band - I've Got The World On A String (5:44)
Информация
Посетители, находящиеся в группе Гости, не могут оставлять комментарии к данной публикации.