Dave Grusin - Night-Lines (1984)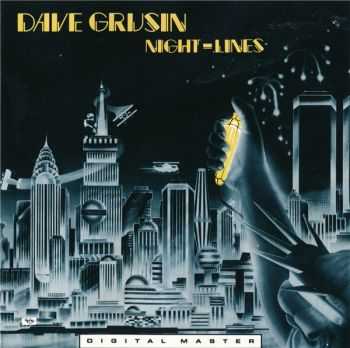 Performer: Dave Grusin
Album: Night-Lines
Label: GRP Record
Catalog #: GRP-D-9504
Style: Jazz-Fusion
Year: 1984
Format: Flac (*image + .cue,log,scans)/ mp3
Bitrate: lossless/ 320 kbps
Covers: in archive
Amount of tracks: 10
Size RAR: ~ 278 MB/ ~ 114 MB
Upload: rusfolder, cloud.mail
Recovery: 3%
Password: sim-sim

Robert David Grusin, род. 26 июня 1934, Littleton, Colorado, USA - американский пианист, композитор, аранжировщик и продюсер. Автор музыки к более, чем 100 фильмам и телесериалам, обладатель многочисленных премий, в том числе Oscar и Grammy. В течение своей музыкальной карьеры выпустил около 35 альбомов, включающих аранжировки произведений Джорджа Гершвина, Дюка Эллингтона, Генри Манчини, а также саундтреки из кинофильмов. Долгое время сотрудничал с Ли Райтнауром, Патти Остин, Куинси Джонсом, Элом Джерро и многими другими музыкантами, исполняющими джаз, фьюжн и поп-музыку.
Night-Lines был выпущен в 1984. Альбом достиг #4 в Billboard's Contemporary Jazz chart.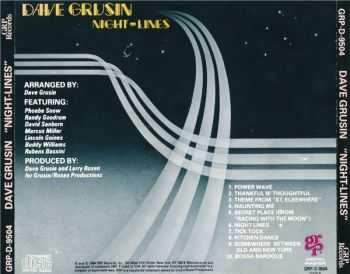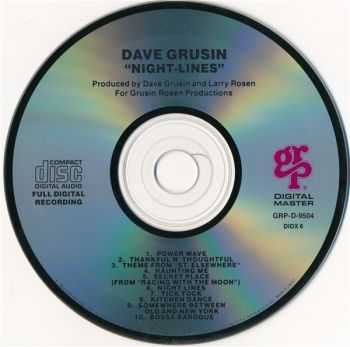 1. Power Wave (5:12)
2. Thankful N' Thoughtful (4:11)
3. Theme from "St. Elsewhere" (4:15)
4. Haunting Me (5:06)
5. Secret Place (from "Racing With the Moon") (3:35)
6. Night-Lines (5:06)
7. Tick Tock (4:16)
8. Kitchen Dance (4:01)
9. Somewhere Between Old and New York (4:35)
10. Bossa Baroque (4:22)
Информация
Посетители, находящиеся в группе Гости, не могут оставлять комментарии к данной публикации.