Larry Coryell - Barefoot Man: Sanpaku (2016)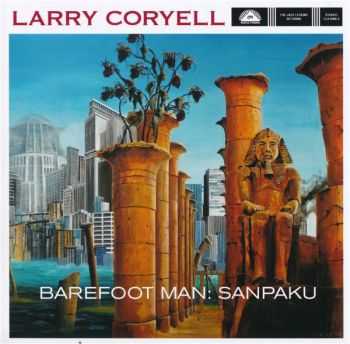 Performer: Larry Coryell
Album: Barefoot Man: Sanpaku
Label: Purple Pyramid
Catalog #: CLO 0460
Style: Jazz, Jazz Fusion
Year: 2016
Format: Flac (*image + .cue,log,scans)/ mp3
Bitrate: lossless/ 320 kbps
Covers: in archive
Amount of tracks: 7
Size RAR: ~ 375 MB/ ~ 133 MB
Upload: rusfolder, deposit
Recovery: 3%
Password: sim-sim

Larry Coryell американский джазовый гитарист, один из наиболее уважаемых и знаменитых гитаристов современности, известный как "Godfather of Fusion". 13 октября на лейбле Purple Pyramid вышел новый альбом музыканта состоящий из 7 оригинальных композиций. С 1980 года и по сегодняшний день его живые выступления проходящие на различных площадках, начиная с маленьких клубов и заканчивая большими концертными аренами, продолжают привлекать большую аудиторию слушателей и зрителей везде, где он играет, и в США и за границей.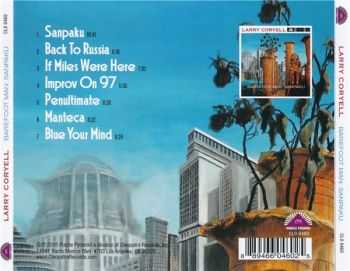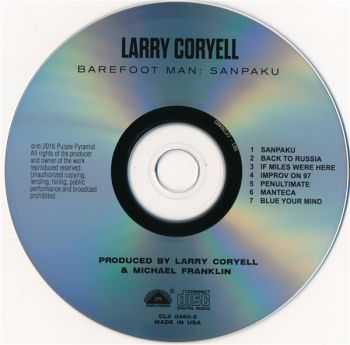 1. Sanpaku (10:41)
2. Back To The Russia (6:15)
3. If Miles Were Here (7:01)
4. Improv On 97 (5:05)
5. Penultimate (6:30)
6. Manteca (8:22)
7. Blue Your Mind (8:26)
Информация
Посетители, находящиеся в группе Гости, не могут оставлять комментарии к данной публикации.