Al Di Meola - All Your Life: A Tribute to The Beatles (2013)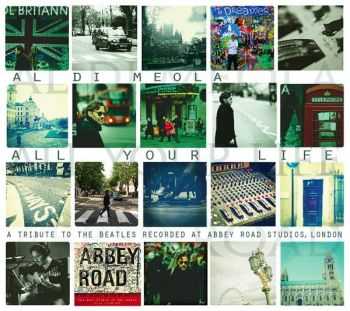 Al Di Meola - All Your Life: A Tribute to The Beatles recorded at the Abbey Road Studios, London (2013)
FLAC: IMAGE+CUE+LOG | 330.48 MB | MP3 CBR 320 kbps | 140.55 MB | SCANS | Time: 54:44
Genre: Jazz, Fusion, Tribute | Label: Innsbruck Records/Valiana Music and Media | Cat.#: MXE8390
Al Di Meola's latest release, "All Your Life" is an acoustic tour de force that has him revisiting the music of the Beatles. A virtual one-man show of virtuosity, it features the guitar great interpreting 14 familiar Beatles tunes in the stripped-down setting of strictly acoustic guitar.
"I've come full circle with this Beatles project. I started out my life loving the Beatles, and I never stopped, just like a lot of so many other guitarists from my generation. In the middle, we all went into whatever music we pursued in our careers – fusion, jazz, whatever it might be. We all wanted to further our craft. But when you come back to the Beatles' music, it's like, 'Man, this stuff is still happening!' All of it!" - Al Di Meola
Al Di Meola
Wikipedia
Innsbruck Records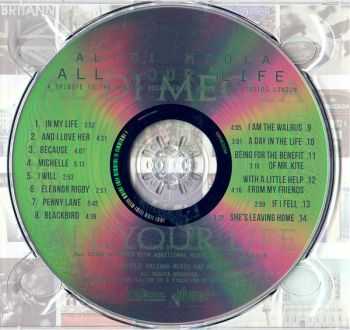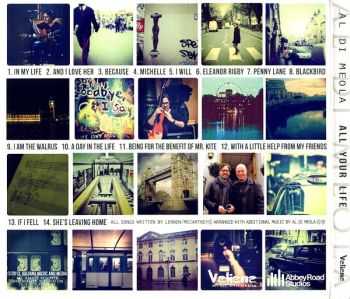 Track Listing
:
1. In My Life (3:52)
2.
And I Love Her
(4:31)
3. Because (4:08)
4. Michelle (5:13)
5. I Will (2:53)
6.
Eleanor Rigby
(2:51)
7. Penny Lane (5:42)
8. Blackbird (4:39)
9. I Am the Walrus (4:05)
10. A Day in the Life (3:02)
11. Being for the Benefit of Mr. Kite (3:10)
12. With a Little Help from My Friends (4:16)
13. If I Fell (3:00)
14. She's Leaving Home (3:22)
Produced by Al Di Meola
Co-producer: Herman Romero
All guitars and percussion on this recording played by Al Di Meola
Many thanks to the original uploader: strizh64
*********
LOSSLESS
Rusfolder
*******
MP3
Uploaded
|
Turbobit
|
Rusfolder
Информация
Посетители, находящиеся в группе Гости, не могут оставлять комментарии к данной публикации.