The Soft Machine - Volume Two (1969) [Remastered 2009]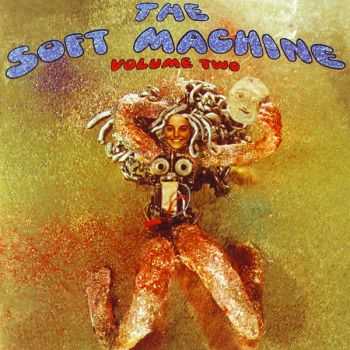 The Soft Machine - Volume Two (1969) [Remastered 2009]
MP3 CBR 320 kbps | 95.25 MB | SCANS | Time: 33:25
Genre: Rock, Psychedelic/Progressive Rock, Jazz Fusion, Canterbury Scene | Label: Polydor Ltd. (UK) | Cat.#: 532 050-6
Volume Two is an LP by The Soft Machine, first released in 1969. A jazz influence is introduced to the humour, dadaism, and psychedelia of The Soft Machine (1968). The album was inspired by Frank Zappa's Absolutely Free and consists of two long compositions with "As Long as He Lies Perfectly Still" and "Dedicated to You" serving as interludes. Acting on a recommendation from Zappa, the band split the main tracks into smaller pieces to increase the band's income from the album.
According to the lyrics in Have You Ever Bean Green? The Soft Machine thanked The Jimi Hendrix Experience, with whom they toured through the USA in 1968, that they as a beginning band were exposed to large crowds. The title of this song refers to a soulful plaint in the song Are You Experienced?, "Have you ever been experienced?".
Kevin Ayers' departure after the lenghty American tours of 1968 almost caused Soft Machine to break up. But when Wyatt and Ratledge were offered to play a few gigs to promote the newly released first album in February 1969, they brought in former roadie Hugh Hopper and reformed the band. This new start provided Ratledge with the impetus to really have a go at composing, and the result is his lengthy "Esther's Nosejob" suite, which totals 11 minutes and makes up most of side two of Volume Two. The arrangements are of an unprecedented sophistication, combining Ratledge's keyboards with the dual saxophones of the Hopper brothers (former Wilde Flowers leader Brian later augmented the trio on most of their 1969 gigs), and the music is largely experimental.
Side one is also made up of segued more song-based tracks, most of them Hopper-Wyatt collaborations, bearing the collective title "Rivmic Melodies". They are humorously introduced by a spoken statement by Wyatt presenting them as a collection of songs "from the official orchestra of the College of Pataphysics". Particularly funny is Wyatt's two-part "Concise British Alphabet". The album includes two other songs, "As Long As He Lies Perfectly Still", a tribute to former bandmate Kevin Ayers, alluding to his macrobiotic food addiction as well as directly quoting from "Why Are We Sleeping?" and "Lullabye Letter"; and "Dedicated To You, But You Weren't Listening", a exquisitely weird Hopper song that Wyatt singing suitably oblique lyrics to an unorthodox open-tuning acoustic guitar chord sequence.
The Soft Machine
|
Wikipedia
|
Progarchives.com
Track Listing
:
RIVMIC MELODIES
1.
Pataphysical Introduction - Pt. I
(1:00)
2. A Concise British Alphabet - Pt. I (0:09)
3. Hibou Anemone and Bear (5:59)
4. A Concise British Alphabet - Pt. II (0:12)
5. Hullo Der (0:54)
6. Dada Was Here (3:25)
7. Thank You Pierrot Lunaire (0:48)
8. Have You Ever Bean Green? (1:19)
9. Pataphysical Introduction - Pt. II (0:51)
10. Out of Tunes (2:34)
ESTHER'S NOSE JOB
11. As Long As He Lies Perfectly Still (2:34)
12. Dedicated To You But You Weren't Listening (2:32)
13. Fire Engine Passing With Bells Clanging (1:50)
14. Pig (2:09)
15. Orange Skin Food (1:47)
16. A Door Opens and Closes (1:09)
17. 10:30 Returns To the Bedroom (4:13)
Produced by The Soft Machine
This compilation compiled and produced by Mark Powell
Members
PERSONNEL
:
Robert Wyatt - drums, lead and backing vocals
Mike Ratledge - piano, Lowrey Holiday De Luxe organ, Hammond organ (on 3) harpsichord (on 12), flute (on 3 and 10)
Hugh Hopper - bass guitar, acoustic guitar (on 12), alto saxophone (on 3 and 14-16)
Additional personnel:
Brian Hopper - soprano and tenor saxophone
24-bit remastering from the original analogue master tapes by Paschal Byrne at The Audio Archiving Company, London
This Compilation Ⓟ & Ⓒ 2009 Polydor Ltd. (UK), A Universal Music Company
*****
Download
Uploaded
|
Turbobit
|
Rusfolder
Информация
Посетители, находящиеся в группе Гости, не могут оставлять комментарии к данной публикации.