Pierre Moerlen's Gong - Second Wind (1988) mp3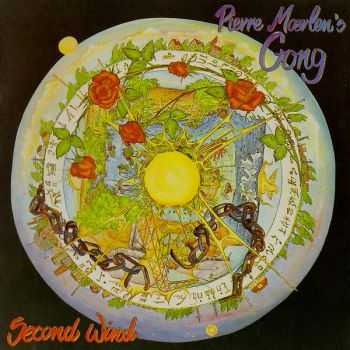 Pierre Moerlen's GONG - Second Wind (1988)
MP3 CBR 320 kbps | 170.31 MB | SCANS | Time: 1:11:40
Genre: Rock, Jazz Fusion, Progressive Electronic, Canterbury Scene | Label: Line Records | Cat.#: LICD 9.00698
After "Breakthrough" (1986), Pierre Moerlen's Gong mostly returned to the jazz-rock fusion sound that made them so enjoyable in the late '70s and early '80s on "Second Wind". Benoit Moerlen, who had departed after "Downwind" (1979), is back for this album, with stalwarts Pierre Moerlen and bassist Hansford Rowe forming the stable core of the band. Ake Zeiden, who had joined for "Breakthrough" adds some fine guitar work to this album and talented keyboardist Frank Fischer is a welcome addition.
The sound of the first eight tracks of "Second Wind" is very much a late '80s updating of what this incarnation of Gong had done on their early albums. For the most part this is the skillfully blended jazz-rock fusion sound that Gong perfected in the mid '70s. There's a lot more synthesizer on this album but it doesn't get in the way or change the feel of the album all that much with mallet instruments still very much in the forefront. Seven of the first eight tracks are quite good with only Crystal Funk falling back to the overly commercial sound of "Breakthrough". The last three tracks, collectively called Crash & Co., run for almost half an hour, are nothing more than drumming.
~ Review by David Ross Smith
Wikipedia
|
Progarchives
Track Listing
:
1.
Second Wind
(6:10)
2. Time and Space (5:31)
3. Say No More (5:37)
4. Deep End (4:20)
5. Crystal Funk (4:27)
6. Exotic (5:52)
7. Beton (3:53)
8. Alan Key (5:38)
9. Crash & Co., The First (5:53)
10. Crash & Co., The Second (8:52)
11. Crash & Co., The Third (15:27)
Produced by Pierre Moerlen
LINE-up
:
Pierre Moerlen - drums, percussion, synthesisers, vocals
Benoît Moerlen - percussion, synthesisers
Hansford Rowe - bass, guitars
Åke Ziedén - guitars
Alex Sanguinetti - drums
Simon Pomara - percussion
Frank Fischer - keyboards
Stefan Traub - percussion, synthesisers
******
Download
Uploaded
|
Turbobit
|
Rusfolder
Информация
Посетители, находящиеся в группе Гости, не могут оставлять комментарии к данной публикации.