Les Pommes de ma Douche - Five Men Swinging (2010)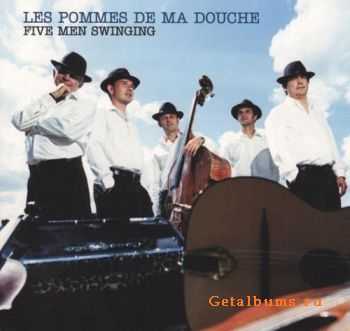 Artist
: Les Pommes de ma Douche
Title Of Album
: Five Men Swinging
Year Of Release
: 2010
Label
: Le Chant Du Monde
Genre
: Gypsy Swing /Jazz Manouche
Format
: MP3
Quality
: 320 kbps I 44.1 Khz I Joint Stereo
Total Time
: 00:44:26
Total Size
: 84 mb
Tracks:
1. Americano (Nisa/R. Carosone)
2. Four Brothers (J. Giuffre)
3. IпїЅm Gonna Live Till I Die (M. Kurz/A. Hoffman/W. Kent)
4. Night & Day (C. Porter)
5. Rythme gitan (J. Privat/R. Maurin)
6. Stompin At The Savoy (E. Sampaon/C. Webb/B. Goodman)
7. Lady Is A Tramp (R. Rodgers/L. Hart)
8. Walking with JB (D. Rivière)
9. Mannix (L. Schifrin)
10. Little Piece In C (M. Petrucciani)
11. Sixteen Men Swinging (E. Wilkins)
12. Taps Miller (C. Basie)
Enregistré au studio Pôle Nord à Blois. 2009.
Personnel:
Dominique Rouquier : guitare solo
Pierre Delaveau : guitare rythmique
David Rivière : accordéon
Laurent Zeller : violon
Laurent Delaveau : contrebasse
Download:
filesonic.com
unibytes.com
Информация
Посетители, находящиеся в группе Гости, не могут оставлять комментарии к данной публикации.