Machine Men - Scars & Wounds (2003, Limited Edition)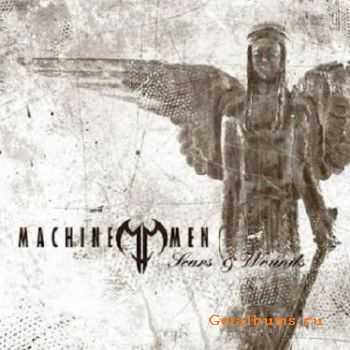 Жанр
: Heavy Metal
Год
: 2003
Формат
: 320 kbps
Размер
: 142 МБ
Лимитированное издание дебютного альбома поистине удивительной финской группы Machine Men. про эту команду часто говорят "финские Iron Maiden", но в действительности ребята до жути убедительно воспроизводят творческое наследие двух знаковых альбомов вокалиста последних - Брюса Дикинсона - Accident of Birth и Chemical Wedding. Звук, голос, даже названия песен и самой группы - все оттуда, поэтому всем скучающим по временам сольников Дикинсона конца 90-х - сюда. Да, и не могу отдельно не отметить вокалиста - думаю, Брюсу стоит задать своему родителю вопрос - "Пап, ты случайно лет 30 назад в Финляндию не заезжал?))"
Tracklist
:
1 Against the Freaks 03:44
2 The Gift 03:42
3 The Beginning of the End 05:12
4 Silver Dreams 03:38
5 Man In Chains 05:16
6 Betrayed By Angels 05:13
7 Victim 03:39
8 Scars & Wounds 11:21
Limited Edition Bonustracks:
9 Men Inside The Machine 03:22
10 Eye Of The Truth 04:27
11 The Slave Trade 04:52
12 Enjoy Insanity 04:23
13 Aces High (Iron Maiden cover)
Total Time: 01:03
Line-up:
Toni "Antony" Parviainen — Vocals
Jani Noronen — Guitar
J-V Hintikka — Guitar (ex-Funeris Nocturnum, ex-Atakhama, Palmcut)
Eero Vehniainen — Bass
Jarno Parantainen — Drums
Информация
Посетители, находящиеся в группе Гости, не могут оставлять комментарии к данной публикации.