Fools Faith - Undone (2007)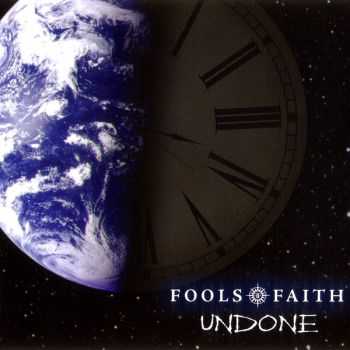 Fools Faith - Undone (2007)
FLAC: IMAGE+CUE+LOG | 371.08 MB | MP3 CBR 320 kbps | 116.28 MB | Time: 46:51 | Covers
Genre: Melodic Heavy Metal, Hard Rock | Label: PeaceDogLLC/SickDay Rec. | Cat.#: S12528
In the Spring of 2005 "Aftermath" split with their label and undeterred by their loss the band pushed forward more determined than ever to find a comparable label replacement. In the Fall of 2005 "Fools Faith" was born as John Gallicano replaced original guitarist Bill DiNapoli and in 2007 the band signed to Connecticut upstarts SickDay Records & Entertainment and while still sticking to their roots released their debut album titled "Undone".
As one reviewer noted… "In taking a louder, stronger & tougher sounding metal approach to their songwriting than noted on Natural Destruction this CD was a tighter collection of songs that will appeal to listeners of all genres of music". With strong melodies, pounding rhythms and vocal harmonies unmatched in today's musical climate setting them apart from their contemporaries Fools Faith had notably taken things a step further.
FOOLS FAITH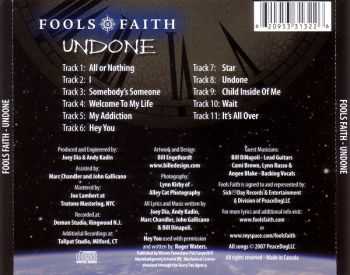 Track Listing
:
1. All Or Nothing (4:28)
2. I (3:52)
3. Somebody's Someone (5:07)
4. Welcome To My Life (4:34)
5. My Addiction (5:28)
6. Hey You (Pink Floyd cover) (4:11)
7. Star (4:43)
8. Undone (3:39)
9. Child Inside Of Me (3:07)
10. Wait (3:17)
11. It's All Over (4:25)
Produced and Engineered by Joey Dia & Andy Kadin
THE BAND
:
John Gallicano
: Lead Guitars, Backing Vocals
Andy Kadin
: Keyboards, Backing Vocals (ex-Aftermath)
Joey Dia
: Lead Vocals, Rhythm Guitars
Marc Chandler
: Drums, Backing Vocals (ex-Under Siege, ex-Aftermath)
Guest Musicians:
Bill DiNapoli
: Lead Guitars (ex-Aftermath)
Cami Brown, Lynn Russo & Angee Blake
: Backing Vocals
Информация
Посетители, находящиеся в группе Гости, не могут оставлять комментарии к данной публикации.