Artension - Into The Eye Of The Storm (Japanese Ed.) (1996)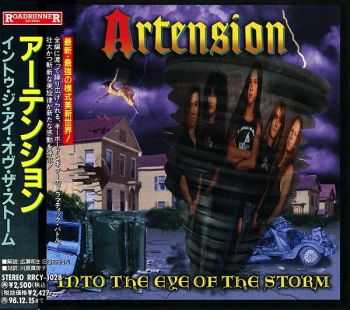 Artension - Into The Eye Of The Storm (Japanese Ed.) (1996)
EAC Rip | FLAC: IMAGE+CUE+LOG | 371.03 MB | MP3 CBR 320 kbps | 140.07 MB | Time: 52:32 | Covers
Genre: Progressive Metal | Label: Shrapnel Rec./Roadrunner Rec. | Cat.#: RRCY-1028
Artension was the brainchild of Shrapnel Records head Mike Varney. He received a demo from wunderkind keyboardist Vitalij Kuprij and progressive axeman Roger Staffelbach of a project they called "Atlantis Rising". Varney began to look for other musicians to round out the lineup. After a lot of consideration, Varney presented Vitalij and Roger with vocalist John West, Bassist Kevin Chown, and drummer Mike Terrana. The result was a band called Artension (named by the band for a combination of the words "art" and "tension") and a CD called "Into the Eye of the Storm".
Shrapnel Records Group
Encyclopaedia Metallum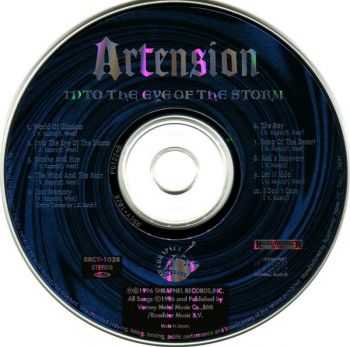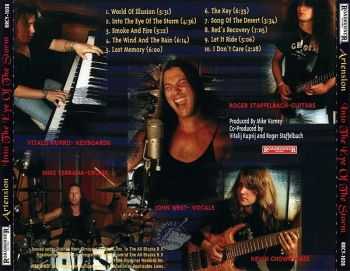 Track Listing
:
1. World Of Illusion (5:32)
2. Into The Eye Of The Storm (4:38)
3. Smoke And Fire (5:14)
4. The Wind And The Rain (6:15)
5. Lost Memory (6:01)
6. The Key (6:36)
7. Song Of The Desert (3:35)
8. Red's Recovery (7:06)
9. Let It Ride (5:07)
10. I Don't Care (2:28)
Produced by Mike Varney
Co-Produced by Vitalij Kuprij and Roger Staffelbach
THE BAND
:
John West
: Vocals
~Emir Hot, John West, Sun Red Sun, ex-Destiny, ex-Feinstein, ex-Royal Hunt, ex-Lynch Mob~
Roger Staffelbach
: Guitars
~Roger Staffelbach's Angel of Eden~
Vitalij Kuprij
: Keyboards and Piano
~Ferrigno, Leal, Kuprij, Mark Boals, Trans-Siberian Orchestra, Vitalij Kuprij, ex-Adagio, ex-Book of Reflections, ex-Ring of Fire, ex-Stygia~
Kevin Chown
: Bass
~Edwin Dare, Mike Terrana, Tarja~
Mike Terrana
: Drums
~Axel Rudi Pell, Emir Hot, Empire, Mike Terrana, Razorback, Tarja, Zillion, Roland Grapow, ex-Hanover Fist, ex-Zillion, Beau Nasty, Taboo Voodoo, ex-Downhell, ex-John West, ex-Kiko Loureiro, ex-Masterplan, ex-Not Fragile, ex-Rage, ex-Savage Circus, ex-Squealer, ex-Tony MacAlpine, ex-Yngwie J. Malmsteen, ex-Gamma Ray (live), ex-Iron Mask (live), ex-Metalium~
Guest:
James Murphy - guitar solo on 8
Many thanks to the original uploader: spiralarch
**********
Download
: LOSSLESS
Uploaded
|
Depositfiles
|
Turbobit
**********
Download
: MP3
Uploaded
|
Depositfiles
|
Turbobit
Password
:
pass
Информация
Посетители, находящиеся в группе Гости, не могут оставлять комментарии к данной публикации.