Kix - Midnite Dynamite (1985) [Japan 1st Press]
Kix - Midnite Dynamite (1985) [Japan 1st Press]
APE: IMAGE+CUE+LOG | 283.33 MB | MP3 CBR 320 kbps | 109.39 MB | SCANS | Time: 41:14
Genre: Hard Rock, Glam Metal | Label: Atlantic/Warner-Pioner Corp. | Cat.#: 18P2-2928
"Midnite Dynamite" is the third album released on Atlantic Records in 1985 by the glam metal band Kix.
By 1985, pop-metal had become one of the dominate genres in pop music thanks to the success of groups like Quiet Riot and Ratt. Although Kix's material remained more ambitious than the pop-metal groups they were lumped in with, the group went for a more pop-metal sound on Midnight Dynamite by using Beau Hill (best known for his work with Ratt and Warrant) as their producer. As a result, songs like the title track and "Layin' Rubber" have the slick, conventional sound expected of pop-metal recordings but manage to rise above the genre's trend with surprising hooks like the unexpectedly lovely harmonies that build up to the chorus in "Midnight Dynamite" and the bubblegum chants that are woven in "Layin' Rubber." The hooks in the songs don't leap out of the speakers this time out the way they did on Kix or Cool Kids, but the group makes up for this by testing out all sorts of new sounds and genres: "Walkin' Away" is a plaintive ballad that is built on synthesizers instead of guitars, and the surprisingly funky "Cold Shower" flirts with rap in its vocal melody. Meanwhile, songs like "Red Hot (Black and Blue)" and "Lie Like a Rug" keep up the album's hard rock quotient and balance their solid guitar riffs with enough pop harmonies and hooks to keep things interesting. Ultimately, Midnight Dynamite lacks the coherence and sonic ambition that marked their first two albums but still remains a strong, likeable collection of pop/rock tunes. ~ review by Donald A. Guarisco (allmusic.com)
Wikipedia
Amazon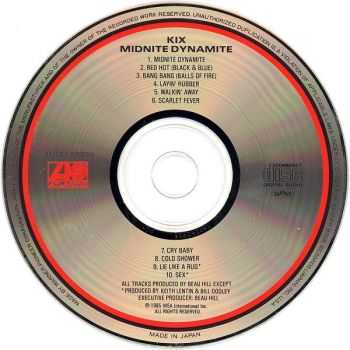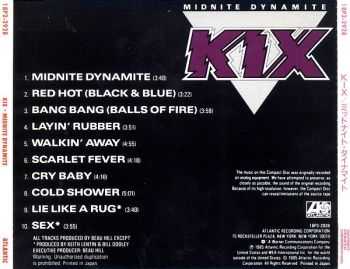 Track Listing
:
1.
Midnite Dynamite
(3:51)
2. Red Hot (Black & Blue) (3:22)
3. Bang Bang (Balls Of Fire) (3:59)
4. Layin' Rubber (3:52)
5. Walkin' Away (4:56)
6. Scarlet Fever (4:19)
7. Cry Baby (4:17)
8.
Cold Shower
(5:01)
9. Lie Like A Rug (3:40)
10. Sex * (3:57)
Produced by Beau Hill
* Produced by Keith Lentin & Bill Dooley
THE BAND
:
Donnie Purnell
- bass, keyboards, backing vocals
Steve Whiteman
- vocals, harmonica
Ronnie Younkins
- guitar
Brian Forsythe
- guitar
Jimmy Chalfant
- drums, backing vocals
Additional musicians:
Mike Slamer - guitars (on "Walking Away" & "Scarlett Fever")
Beau Hill - additional keyboards and guitar
Anton Fig - drums, percussion (on "Lie Like a Rug" and "Sex")
Many thanks to the original uploader: Manstr
**********
Download
: LOSSLESS
Uploaded
|
Depositfiles
|
Turbobit
**********
Download
: MP3
Uploaded
|
Depositfiles
|
Turbobit
Информация
Посетители, находящиеся в группе Гости, не могут оставлять комментарии к данной публикации.