Impaled Northern Moonforest - Flames of Hell (1997)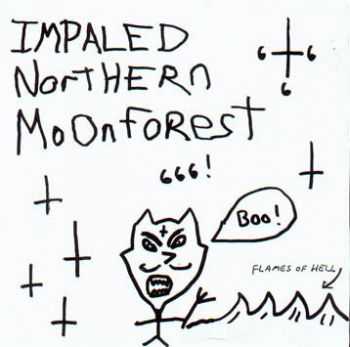 Исполнитель:
Impaled Northern Moonforest
Альбом:
Flames of Hell
Год: 1997
Страна: USA
Стиль: True Satanic Acoustic Black Metal
Битрейт: 160 кб/с
Размер: 13 мб
Треклист:
1.Grim And Frostbitten Moongoats Of The North 1:02
2.Forlorned Invocations Of Blasphemous Congregations Of Lustin Goat Sodomizing Satannis 0:55
3.Gazing at the Blasphemous Moon 0:33
4.Bloodlustfully Praising Satans Unholy Allmightyness In The Woods At Midnight 0:44
5.Nocturnal Cauldrons Aflame Amidst The Nothern Hellwitch's Perpetual Blasphemy 1:26
6.Transfixing The Forbidden Blasphemous Incantations Of The Conjering Wintergoat 1:00
7.Masterbating On The Unholy Inverted Tracks Of The Grim + Frostbitten Necrobobsledders 0:45
8.Awaiting The Blasphemous Abomination Of The Necroyeti While Sailing On The Northernmost Fjord Of Xzfgiiizmtsath 0:38
9.Lustfully Worshiping The Inverted Moongoat While Skiing Down The Inverted Necromountain Of Necrodeathmortem 0:43
10.Awaiting the Frozen Blasphemy of the Necroyeti's Lusting Necrobation Upon The Altar Of Voxrfszzzisf 0:51
11.Summoning The Unholy Frozen Winterdemons To The Grimmest And Most Frostbitten Inverted Forest Of Abazagorath 0:39
12.Entranced By The Northern Impaled Necrowizards Blasphemous Incantation Amidst The Agonizing Abomination Of The Necrocorpse 0:20
13.Grim and Frostbitten Gay Bar 0:31
14.Return Of The Necrowizard (still unreleased) 1:12
zippyshare.com
Impaled Northern Moonforest — тру-акустик-блэковый проект участников знаменитого фекально-экскрементального ансамбля Anal Cunt Джоша Мартина и Сета Путнэма.
Идея создания группы возникла в 1997 году в 3 часа утра. Чтобы не разбудить соседей, Сет и Джош не стали использовать ни электрогитары, ни драм-машину: Джош играл на раздолбанной акустической гитаре, в то время как Сет хлопал ладонями по коленкам и по матрацу (вместо перкуссии). Так они записали альбом из 13 композиций, который был выпущен тиражом 200 копий.
Позднее Impaled Northern Moonforest отыграли 5 (по другим сведениям 10) живых выступлений в Бостоне, Колорадо и Японии. Они никогда не репетировали перед выступлениями, потому что репетиции — это не тру.
Информация
Посетители, находящиеся в группе Гости, не могут оставлять комментарии к данной публикации.