Septic Flesh - Sumerian Daemons (2003)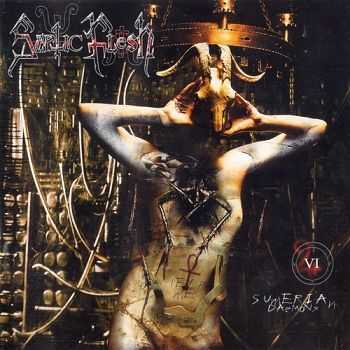 Artist:
Septic Flesh (Septicflesh)
Title Of Album:
Sumerian Daemons
Release Date:
2003
Location:
Greece
Label:
Hammerheart Records (HHR120)
Genre:
Death Metal, Doom Metal
Quality:
FLAC (image+.cue+covers) / MP3 CBR 320 kbps
Length:
56:06 min
Tracks:
13
Total Size:
525 MB / 215 MB (+5%)
Sumerian Daemons
is the sixth studio album by the Greek death metal band Septic Flesh. It was released by Hammerheart Records (now known as Karmageddon Media) in 2003. It was originally the band's final album before they disbanded later the same year, until they reformed in 2007. The cover art for the album was a real background constructed in accordance with Spiros' instructions by a Greek FX team that usually works for films and advertisements, called the Alahouzos Bros.
Tracklist:
01. beHold... tHe lAnd of Promise (2:11)
02. uNbeliever (4:52)
03. Virtues Of The Beast (5:18)
04. FaUst (5:10)
05. When All Is None (4:39)
06. Red Code Cult (4:09)
07. Dark River (3:57)
08. Magic Loves Infinity (3:59)
09. SumerIan Daemon (4:04)
10. Mechanical Babylon (4:56)
11. Infernal Sun (3:27)
12. Empire Of The Watchers (4:14)
13. Shapeshifter (5:15)
Download / Скачать flac:Download / Скачать mp3:
Информация
Посетители, находящиеся в группе Гости, не могут оставлять комментарии к данной публикации.