Napalm Death - Diatribes (1995) [Japan Edition 1996] [LOSSLESS]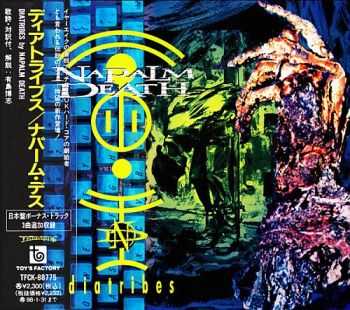 Исполнитель: Napalm Death
Альбом: Diatribes
Страна: England
Жанр: Death Metal
Год выхода: 1995
Кол-во композиций: 15 [CD-Rip] TOY'S FACTORY/TFCK-88775
Формат: 1034 kbps FLAC [image.cue. log. CD scans]
Размер: 407.91 Mb
Файлообменник: Depositfiles/Rusfolder

Tреклист:
1.Greed Killing 3:06
2.Glimpse Into Genocide 3'02
3.Ripe For The Breaking 4'02
4.Cursed To Crawl 3'25
5.Cold Forgiveness 4'32
6.My Own Worst Enemy 3'36
7.Just Rewards 3'29
8.Dogma 3'31
9.Take The Strain 4'11
10.Diatribes 3'52
11.Placate, Sedate, Eradicate 3'25
12.Corrosive Elements 4'02

Bonus Tracks:
13.Self Betrayal 4'38
14.Finer Truth, White Lies 2'59
15.All Links Served 2'41



Download:

Информация
Посетители, находящиеся в группе Гости, не могут оставлять комментарии к данной публикации.