King Kobra - The Lost Years (Compilation) (1999)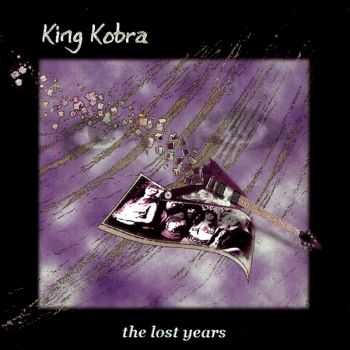 King Kobra - The Lost Years (Compilation) (1999)
APE: IMAGE+CUE+LOG | 360.79 MB | MP3 CBR 320 kbps | 115.42 MB | Time: 48:33
Genre: Hard Rock, Heavy/Glam Metal | Label: Deadline Music/Cleaopatra | Cat.#: CLP0585-2
King Kobra was one of the better bands to come from the L.A. "hair metal" scene in the mid `80s, but they didn't leave us with very many albums. That's why a collection like The Lost Years was like a gift from above. King Kobra's The Lost Years compilation resurrects 11 tracks -- many of which never saw the light of day -- from the group's mid- to late-'80s glory days.
The Lost Years is a collection of previously unreleased King Kobra material put together by drummer Carmine Appice. There was a revolving cast of musicians involved with these songs, particularly in the vocal department. The first few tracks feature vocals by original singer Mark Free, and are the closest to the King Kobra we're most familiar with (though leadoff song "Mean Street Machine" sounds like it should be a Y&T song). The middle tracks feature Marq Torien on vocals, who would later go on to front the band Bulletboys. The last few tracks feature vocalist Johnny Edwards, who would go on to (briefly) sing for Foreigner after Lou Gramm's departure. I always thought his work with Foreigner was criminally underrated, and his vocals on these King Kobra tracks are quite strong as well.
The songs collected on The Lost Years are all album-quality, and live up to the King Kobra standard. This collection is a must-have for all serious King Kobra fans, and a should-have for fans of the `80s melodic rock and hair metal scene. ~ Review by
Justin G.
Wikipedia
Carmine Appice
Amazon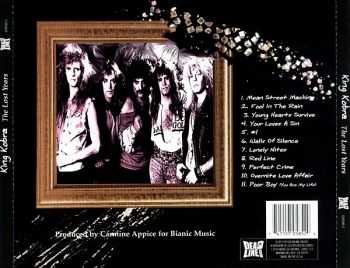 Track Listing
:
1. Mean Street Machine (4:25)
2. Fool In The Rain (4:33)
3. Young Hearts Survive (3:59)
4. Your Loves A Sin (3:45)
5. #1 (5:07)
6. Walls Of Silence (5:20)
7. Lonely Nites (4:44)
8. Red Line (4:05)
9.
Perfect Crime
(3:55)
10. Overnite Love Affair (4:00)
11. Poor Boy (You Are My Life) (4:40)
Produced by Carmine Appice
THE BAND
:
Mark Free - vocals
Marq Torien - vocals
Johnny Edwards - vocals
David Micheal Philips - guitar
Mick Sweda - guitar
Jeff Northrup - guitar
Johnny Rod - bass
Larry Hart - bass
Carmine Appice - drums
Many thanks to the original uploader: lomik70
*********
LOSSLESS
Uploaded
|
Depositfiles
|
Turbobit
********
MP3
Uploaded
|
Depositfiles
|
Turbobit
Информация
Посетители, находящиеся в группе Гости, не могут оставлять комментарии к данной публикации.