Carmine & Vinny Appice - Drum Wars Live! (2014)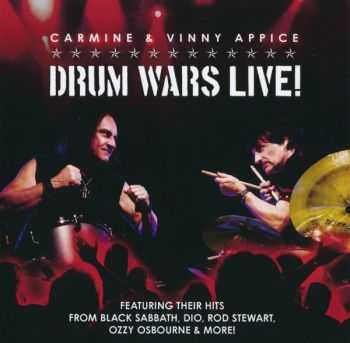 Performer: Carmine & Vinny Appice
Album: Drum Wars Live!
Label: Deadline Music
Catalog #: CLP-2123-2
Style: Hard and Heavy Rock
Year: 2014
Format: Flac (*image + .cue,log,scans)/ mp3
Bitrate: lossless/ 320 kbps
Covers: in archive
Amount of tracks: 13
Size RAR: ~ 494 MB/ ~ 156 MB
Upload: yandex, rusfolder
Recovery: 3%
Password: sim-sim

Carmine Appice (15.12.1946) американский барабанщик. В разное время работал с Vanilla Fudge, Cactus, трио Beck, Bogert & Appice, Rod Stewart, King Kobra и Blue Murder. Его книга-инструкция The Realistic Rock Drum Method впервые была издана в 1972, с тех пор несколько раз редактировалась и переиздавалась как The Ultimate Realistic Rock Drum Method. Его творчество оказало влияние на более позднее поколение барабанщиков включая Nicko McBrain; Joey Kramer из Aerosmith; Roger Taylor из Queen; Phil Collins из Genesis; Rush's Neil Peart; Mötley Crüe's Tommy Lee; Slayer's Dave Lombardo; Richard Christy; Chris Grainger; David Kinkade; Ray Mehlbaum; Led Zeppelin's John Bonham; Ian Paice из Deep Purple; Robb Reiner и Eric Singer.
Vincent Paul "Vinny" Appice (13.09.1957), американский рок барабанщик и младший брат Carmine Appice. Он хорошо известен по своей работе с Axis, Dio, Black Sabbath, Heaven & Hell, Big Noize и другими.
И теперь эти две величины, два монстра, два брата в одном проекте - Drum Wars Live!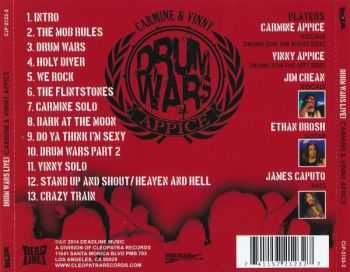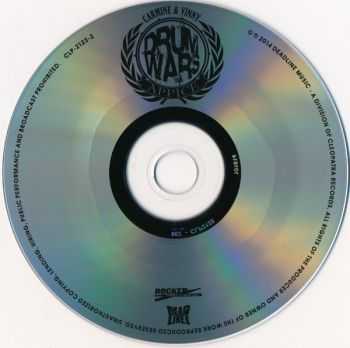 1. Intro (1:40)
2. The Mob Rules (3:17)
3. Drum Wars (8:21)
4. Holy Diver (4:42)
5. We Rock (5:02)
6. The Flintstones (2:53)
7. Carmine Solo (3:49)
8. Bark At The Moon (4:25)
9. Do Ya Think I'm Sexy (6:44)
10. Drum Wars Part 2 (5:37)
11. Vinny Solo (5:46)
12. Stand Up And Shout / Heaven And Hell (6:10)
13. Crazy Train (5:47)
Информация
Посетители, находящиеся в группе Гости, не могут оставлять комментарии к данной публикации.