VA - Ballermann Megamix 2011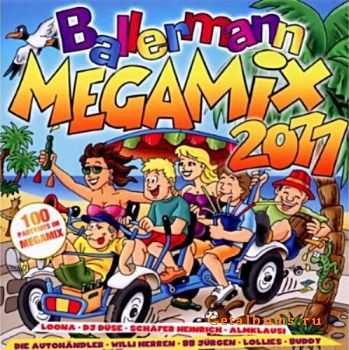 Artist
: VA
Title Of Album
: Ballermann Megamix 2011
Year Of Release
: 2011
Label
: MORE (SONY MUSIC)
Genre
: Pop
Quality
: MP3
Bitrate
: VBR263kbps, 44.1 Khz, Joint Stereo
Total Time
: 155:41
Total Size
: 293 MB
Tracklist:VA - Ballermann Megamix 2011 CD1:
DJ Düse - 7000 Rinder
Lollies - Gefällt Mir! (Tribute To Facebook Long-Mix)
PS Alex - Una Cerveza Por (Original Mix)
Tom Kruse - Wunder Gibt Es Immer Wieder
Libero 5 - Sierra Madre
Mallorca Cowboys - Feiern!
Torsten Wamer - Für Dich
Olli Ole - Nackt Seh Ich Noch Besser Aus
Buddy & Party Hit Piraten - Hallo Bimmelbahn
BB Jürgen - Viva Mallorca
Kai Kaiser - Speedy Gonzales
Ikka Hüftgold feat. DJ Düse - Wir Wollen Feiern (Wohohohohohoho) (Bierkönig-Oberbayern-Mix)
Jörg & Dragan (Die Autohändler) - Wir Haben Deine Frau Gehabt
Chriss Tuxi - Scheisse Sind Wir Geil (╓tzen Bierkönig Musik Mix)
DJ Düse - Titten Raus, Es Ist Sommer (Bierkönig Mallorca Mix)
Der Inselkeks - Sex Am Strand Ist Imposand
Töffi - Hast Du Bock
Sabbotage - Ich Bin Ok, Du Bist Ok (Komm Wir Gehen Poppen!)
David Beier - Gaby Fu Arsch
Jäger DJ Alex & Matty Valentino - Sha-La-Lie (Ich Bin Verliebt) (Alpen-Mix)
Salsa Kings - Nah Neh Nah
The Teachers & Linda Newman - Let The Music Play (Original Mix)
John Le Park - Nasty Boy (Club Mix)
Aboutblank & KLC - Magic (TMO Dub Remix)
Filip Jenven & Max C - Lifting It Higher (Micha Moor Remix)
Damn Stupid - Goodbye Girl (The Teachers Remix)
Duke & Robin - Square House (Club Edit)
Miami Inc. & Jason McKnight - No Sleep (Anadi & Grey Club Mix)
2Loud - Destroy She Said (Radio Mix)
Klaas - I'm Free (Original Mix)
Carsten Fischer - Summer Drugs (Duke & Robin Remix)
Sean Finn - No Good (Club Mix)
Carsten Hering - Paris Einfach So Nur Zum Spa
Tommy - Immer Wieder Geht Die Sonne Auf
DJ Alexander F. - Ein Kleines Glück (Mallorca Mix 2011)
Adler Von ╓sterreich - Fürstenfeld 2011
Zamira - Verlilaliebt
Nic - Einen Saphir (Radio Edit)
Ulf Vegas - Ich Bin Euer DJ Heut Nacht
Strandjäger - Solang Es Nicht Mallorca Ist (...Will Ich Nicht Hin)
Yvie & Deejay Mambo - Dich Zu Lieben
Ulli's Gang - Männers Vom Platten Land
Aleks Schmidt - Nichts An Als Das Radio (Maxi-DJ-Version)
Chaos Team - Wir Sind Bekloppt
Jay - Reise Durch Die Galaxis (Original-Mix)
Krümel - Hal-Le-Lu-Jah
Die Traumtänzer - Wir Tanzen Fox
Killermichel - Insellied (Version 2011)
Lorenz Büffel - Lass Uns Schmutzig Liebe Machen
Die Partymacher - Steig Auf Meine Luftmatratze (Single Mix)
VA - Ballermann Megamix 2011 CD2:
Loona - El Tiburon (Papa's Got A Brand New Pig Bag) (Radio Mix)
Alex Megane - Gefühle (Radio Edit)
Arnold Palmer feat. Antoine Montana - Keep On Movin' (Scotty Mix)
Buddy - Itsy Bitsy Strandbikini (Radio Version)
Funky Chicos - Girls In Love
Sunloverz - Bam Bam Bam (Club Mix)
Discomakers & Jessica Jean - Addiction (Michael Burek Remix)
De-Grees - 2 Of Us (Original Mix)
Marcus Luca - Sie Liebt Ihn Immer Noch
Tommy - Joanna, ...Du Geile Sau
Gerry - Vogel Der Nacht (Remix 2011)
Bert Silver - Im Tanzcafe Der Herzen
Jürgen Peter - Mary Jane (Club Mix 2011)
Stefan Peters - Wer Fox Tanzt Ist Gut Im Bett
Wir Sind Wir - Ein Diamant
Topmodelz - My Paradise (DJ's from Mars Mix)
Scotty - Sundown
Lou Bega - This Is Ska (Radio Mix)
Dave Young - Watching The Moon
Cassey Doreen - Like A Virgin (Michael Blohm Remix)
Baker, Van Linden & Gemeni - Jump (Orignal Mix)
Tom Mountain - Excited (Original Mix)
Almklausi - Du Bist Meine Nummer 1
Lollies - Arsch Im Sand (Auf Die Fresse DJ-Mix)
Chriss Tuxi feat. DJ Düse - Halli Galli Durchdrehn (Bierkönig Mallorca Mix)
Markus Kölle - Zuppa Romana
Die Discobauern - Baby, Ich Hol Dich Mit Dem Traktor Ab
Ikke & Papaoke - Saufen Ist Scheisse (...Doch Wir Machen's Trotzdem) (Waka Remix 2011)
Schäfer Heinrich - Das Schöne Mädchen Von Seite Eins
Jörg & Dragan (Die Autohändler) - Aber Bitte Mit Sahne
Lollies - Endlich Wieder Nüchtern (...Das Müssen Wir Feiern) (Halts Maul Und Feier DJ-Mix)
Jay - Ist Das Ein Sauladen Hier
Annina - Happy Day (Wir Feiern Heut)
DJ Düse - Wir Sind Auf Malle (...Nicht In Italien)
Marc Pavlo & Chris Turner - Wir Wollen Feiern!
Ina Colada - Mamor, Stein Und Eisen Bricht
Geier Sturzflug - Pure Lust Am Leben 2011
Tobee - Lotusblume
Schnitte - Wir Feiern Ohne Ende
Krümmel - Es Könnte Gar Nicht Schöner Sein (Single-Edit)
Sabbotage - Katharine, Katharine
DJ Hulpa feat. Party Atze - Kenn Nicht Deinen Namen (Scheiegal)
Willi Herren feat. Remmi Demmi Boys - Das Lied Der Schlümpfe
Mike Mucke - Tatüü Tataa (DJ-Version)
Bernd Schneider - Im Aufwind Der Gefühle (Radio-Mix)
Chris Marlow - Ich Will Bei Dir Sein (DJ-Mix 2011)
Ikke Hüftgold - Pik Pik Pik (Finger In Den A...) (Oriignal Mix)
Strandjäger - Annika
Axel Fischer - Grieschischer Wein
The Entertainer - Help Yourself (Tribute To Tom Jones-Mix)
Информация
Посетители, находящиеся в группе Гости, не могут оставлять комментарии к данной публикации.